How to recognize fraud leads?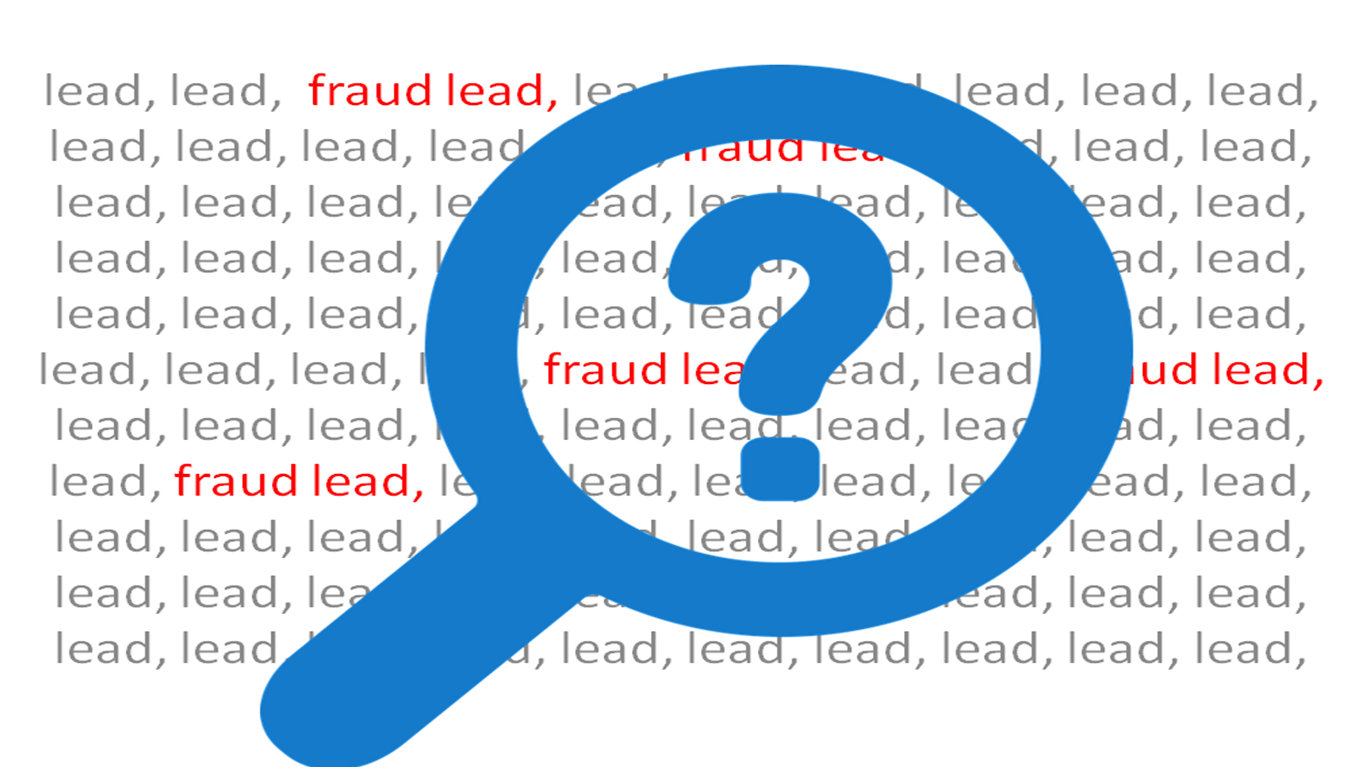 source: own elaboration
We have already written about what fraud leads are and who they concerns. However, let us remind you that all companies acquiring clients via the Internet are exposed to this type of fraud, even if they do so only through contact forms on their own website. To check what percentage of contact information you receive from potential customers (and therefore leads) are fake, you must first distinguish them. Of course you can do this by verifying all the information - but it is very time-consuming and therefore expensive. So how do you recognize fraud leads?
Methods for identifying fraud leads
There are several methods to check if the contact details of our potential customers are false even before we make contact with them. Of course, some of them are more effective, others less. Depending on what data we obtain and whether it is mediated by an external entity, we can distinguish the following methods:
Typos, mistakes.

The most frequently obtained contact details are the telephone number and e-mail address. They allow you to make contact with a potential client (if, of course, he gives necessary consents). However, these are data exposed to errors. One mistake in the phone number causes the whole number to be incorrect. Similarly, the smallest mistake in the email address. When you get a lead, check whether the given phone number has the correct number of digits and whether the domain in the email address really exists. The more data you collect in the contact form, the greater the probability that one of the data contained in it has an error, and the smallest of them can cause that the lead will not be useful for us. Automated data processing systems automatically verify part of the data. These are data such as a pesel number, telephone number, ID card, e-mail address, postal code, etc. Remember, however, that such mechanisms only allow to recognize some incorrect leads. For example, if the phone number provided is correct, but in fact belongs to someone other than the one that filled in the lead form, it will still be false, although the algorithm will not detect it.

Schemes.

If in the past you have already dealt with false leads, learn from your mistakes - remember about the schemes. This is especially important if you are working with a company or person who provides you with leads. Scammers impersonating partners often send packages containing a mix of correct and fraud leads. It may happen that a cheater cooperating with you when creating fake leads uses a certain scheme - for example, creates phone numbers from consecutive digits, invents email addresses in the scheme of name_number@domain etc. If you recognize such a scheme, you will quickly pick up incorrect leads, or you can invest in an appropriate mechanism that recognizes such frauds.

Controlling publishers and partners.

Although this is the most obvious method, many advertisers forget about it. The more partners you have and the more leads you get, the easier it will be to cheat you. Often, advertisers think that the affiliate network that they use is involved in verifying fraudulent publishers. And of course some of them actually do it. Most, however, do not take similar initiatives, at least until the fraud is reported to them. Remember that if you get leads from external partners you should be able to determine from which source each lead is derived. And thus, any fraud should be recorded by you. By creating statistics of your partners, you can detect which of them are cheating you, eliminate them and significantly increase the effectiveness of your marketing activities.

Complicated algorithms created by specialized companies.

The methods indicated above can significantly improve your statistics on fraud leads. However, they require a lot of work from the advertiser. The more leads you need to verify, the more difficult it becomes. However, you can use the services of professionals. Companies such as Traffic Watchdog have been dealing with online fraud for years. Thanks to this, they created complex algorithms that capture frauds in a quick and effective manner. They also have their own database of fraud publishers and ip addresses, thanks to which they verify very large amounts of data in a very short time. Such algorithms can take into account even several hundred factors, which allows them to recognize almost every incorrect lead. By using their services, you can verify your partners, reduce your marketing costs, use your time more efficiently and most importantly protect your business against potential scams.

Identifying fraud leads is necessary in any business acquiring online clients. This problem concerns almost all companies. There are many methods of recognizing false leads, and in some companies even the simplest of them can contribute to a significant improvement of the situation. If you want to find out which method of verifying leads will be the best for your company - contact us.