Different types of click farms.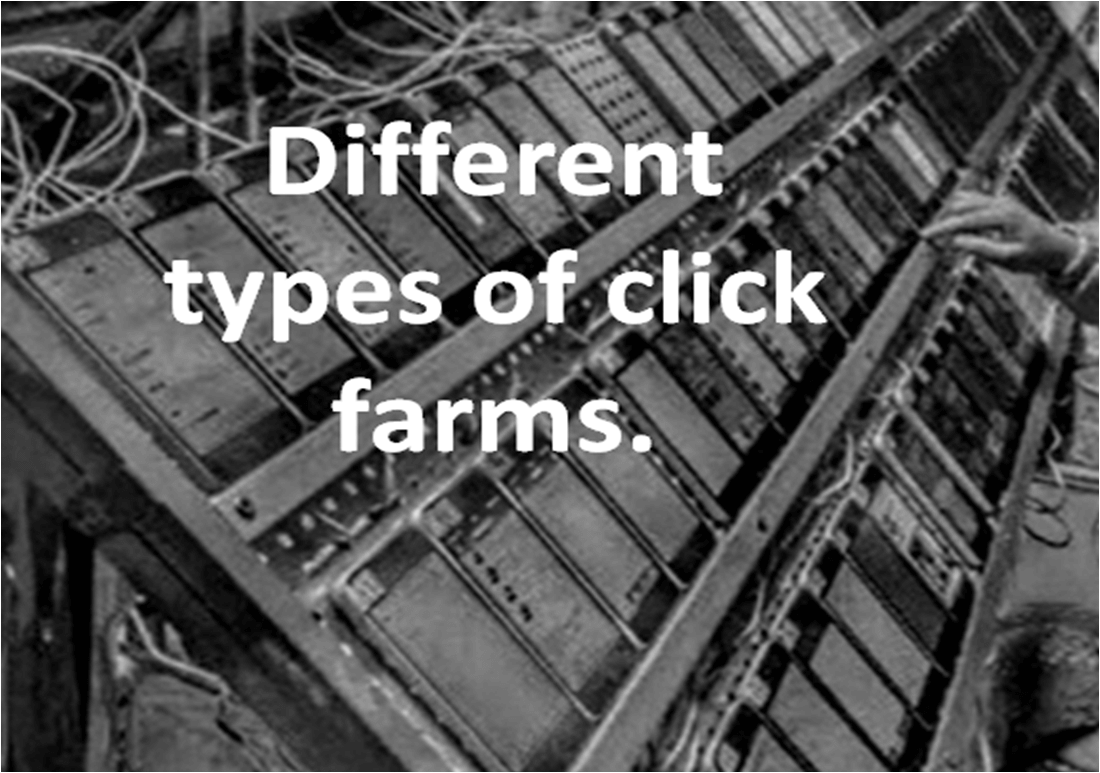 source: own elaboration
The click farms were mainly created to cheat advertisers using artificially generated clicks on Cost Per Click (CPC) ads, but along with the development of online marketing they have evolved adding new categories to their "services". When social media became the power of modern media, click farms began to offer likes, comments and sharing for their clients, and in the video era more and more of them display movies on commission. Today, many types of farms can be distinguished:
Farms that collect clicks on sites owned by the owner of the farm - this type of click farm is deceiving advertisers and forcing them to pay for artificially generated clicks. Such farms are usually small rooms filled with low-quality electronics. Thousands of mobile phones are supported by several, very low-paid, employees, "clicking" sometimes throughout the day without any break.

Farms that generate clicks on ads belonging to their clients competitors - in general, such farms work very similar to those discussed in the previous paragraph, but "clicks" are obtained in them on external sites, not those belonging to the owner of the farm. Most often, their task is to exclude advertising budgets of advertisers on the orders of their competitors.

Farms that acquires likes in social media - along with the development of online marketing and gaining undivided power by social media, click farms had to expand their "offer". Therefore, they started to acquire fake likes for their clients. Such activities are unidirectional - farms work for the benefit of people who pay them, but they have little ability to disadvantage other companies (most social media do not give the option of negative interaction with a click). Such farms operate similarly to click farms, but they limit activities to social media.

Farms that generate shares of social media content - of course, in social media likes are not everything, only the shares of the content are considered to be a sign of the involvement of followers determining the popularity of a person or fanpage. Although the amount of shares is treated as a quality indicator, it does not have to have much in common with good quality. You can buy shares on farms similar to clicks farms. Due to the quality of shares , we should distinguish two types of shares farms. The first offer large amounts of shares on artificial profiles, often created only for this purpose. The second one proposes to buy shares on real profiles - they are much more expensive, but they can result in displaying content to more people and creating shares network. Such farms are often virtual, and the people employed in them do not physically sit in one room, but are located all over the world.

Farms involved in the creation of artificial comments and ratings - we live in an era of an informed consumer who makes decisions much less spontaneously than in the past. Before purchasing, we review the product and service ratings, read the comments, ask questions and search for answers. Also here click farms found a demand for its "services". False comments and ratings can be positive or negative, thanks to which the click farm can act on commission of a specific company as well as its competitors. Artificial reviews can be added by persons employed on the farm or by special programs (bots). This type of click farm is the most dangerous, because it can create a false image of the company and influence the purchasing decisions of its potential consumers.

Farms that display movies on behalf of clients - video is currently the most popular form of online advertising, but not every movie can become a viral. Movies with more views appear higher in the search results, which drives more of video views. Click farms quickly found a way to be useful, offering their clients the display of their videos. Such farms are usually more automated and do not require literal clicking - thousands of phones are connected to a computer that gives them a command to display a movie, so everything is automated. Allegedly, such services are used by influential agents, and even politicians.

Hybrid farms - offering many of the above services. Often, one click farm offers its clients many types of scams, especially if they require similar technological solutions. It may also happen that a particular click farm form has evolved into another one.
Unfortunately, like almost everything on the Internet, Internet scams are developing very quickly. Although no one has heard about click farms a dozen or so years ago, now they are a serious problem that is not easy to deal with. Their technological advancement and varied activities make it difficult to track and eliminate them. Unfortunately, this results in the fact that it is difficult to identify fake clicks, likes and other online activities provided by them. In this situation specialized companies such as TrafficWatchdog come with the help.