Traffic_Watchdog
We identify and block online & mobile marketing fraud
Fake clicks
Click farms
Bots
Fraudulent leads
Unfair competition
The reality of click fraud
3 out of 4 campaigns in PPC model (Pay Per Click) contain artificially generated clicks.
Some competitive industries, trades, sectors and clients experience even up to 90% fraudulently generated clicks.
The majority of leads generated in the most popular trades and campaigns are of spurious origins.
The scale of the problem in traffic sources
*Cumulated statistical average of all accounts for a 90 day period on the platform.
Users repeatedly clicking on your ads but never making a purchase, bringing no measurable sales effect.
40% of Internet traffic originates from automatic bots. Those bots click on your ads, only ramping up your costs.
Users who click on your paid ads with malicious intent because of negative past experiences with either you personally or your company.
Botnets and click farms can exhaust an entire AdWord budget in mere minutes using malicious proxy servers and VPNs.
7 out of 10 companies interfere with competitors' ads, some even employ hackers in order to artificially inflate their ad costs.
Unfair publishers and hackers make profit by generating fake traffic and clicks on your ads.
Traffic Watchdog offers you protection from these threats
What we protect you from
Protected
Unprotected
A team of experts working for your marketing savings
Our team consisting of experienced experts utilizes the most advanced ad fraud detection technologies, which allows us to protect both your business and marketing budget.
You lose money having no control over who or what clicks on your ads
Having no protection makes you pay for every click from any IP address, device and source - whether the click is natural or artificially generated.
Automatic blocking of suspicious IP addresses in Google AdWords
We incorporated a fully automatic IP address blocking system that is able to detect when a click fraud occurs and effectively block the offenders IP address, so that your ads will no longer appear for them in Google.
You are an easy target for Internet fraud
With no advanced, intelligent ad fraud 24/7 monitoring systems, designed to detect and identify all sorts of click and lead fraud, you are exposed to attacks.
24/7 protection
Our protection works 24 hours a day, 7 days a week, 365 days a year. Our automated systems are able to detect and prevent click fraud with unmatched precision - saving up to 30% of AdWord expenses.
You have no insight about your paid clicks
With no proper monitoring system you're left with practically no information about the traffic you pay for - you only know how much a click cost and how much you owe for those clicks - the rest is left for you to guess.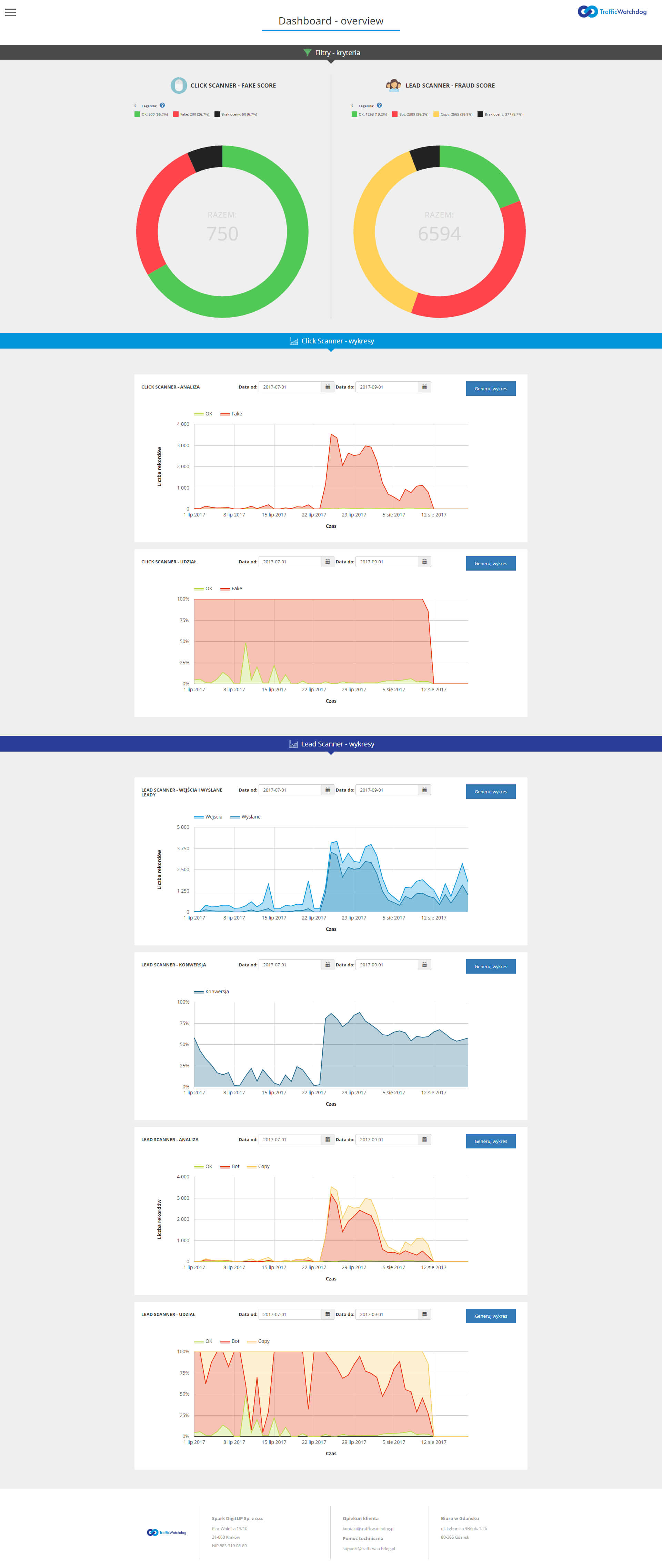 Prevent Ad Fraud with Traffic Watchdog today