Who is affected by the problem of fraud leads?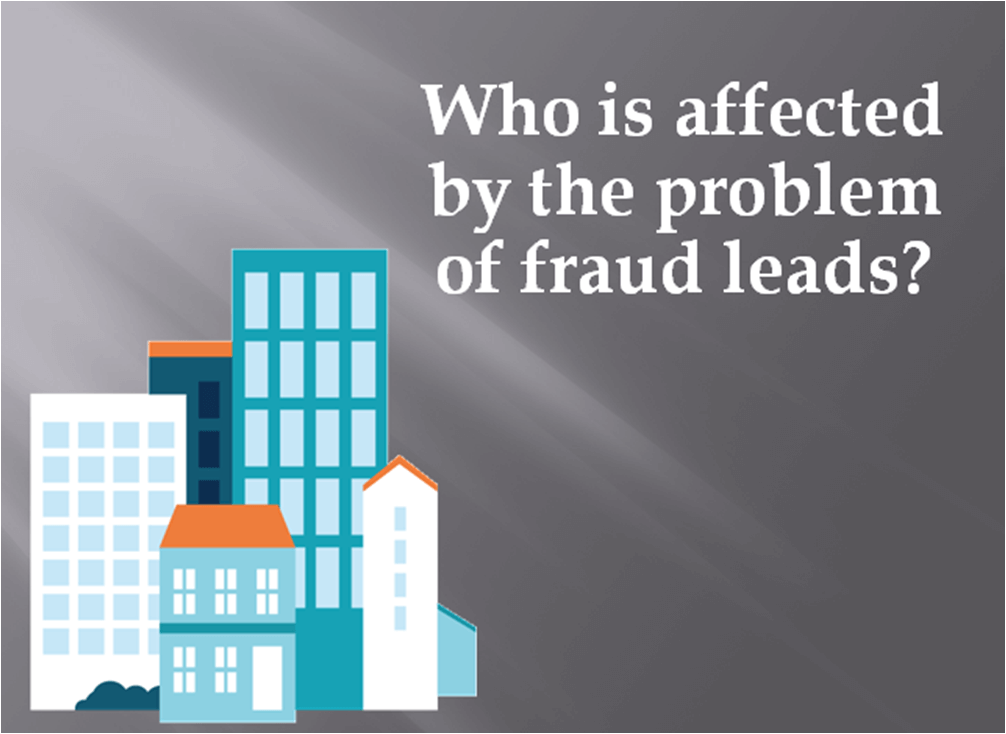 source: own elaboration
Leads are contact details, collected by the company in order to establish a relationship with a potential customer. Fraud, false lead is incorrect information given in the form on the advertiser's website or forwarded to it by an intermediary (publisher, affiliate network, marketing agency or other partner). This definition includes errors of potential customers when filling out the form, but also marketing frauds aimed at causing material damage to the advertiser (for example in the form of paying an unfairly charged commission). Such fraud leads are not only useless, but also generates additional costs (even servicing), which is why it is important to recognize false leads as soon as possible. Due to the many meanings behind the term of incorrect leads, almost every company that obtains contact details of potential customers is exposed to this problem.
Fraud leads - the problem of all companies acquiring clients on the Internet.
The majority of companies that advertise on the internet struggle with the problem of fraud leads. They are looking for a customer for their products or services, and when they receive his data, they contact him to get the sell. Some of them operate exclusively on their own through contact forms placed in the Contact tab on their websites, fanpages, newsletter submissions, etc. In this case, the fraud leads problem will occur on a smaller scale and mainly related to mistakes - as typos and other errors occurring when filling out the form by the user. Other companies decide to be more active in acquiring potential customers and becoming an advertiser. This means that they use the services of external companies and people who have such contact details to obtain them. The CPL (cost per lead) and CPA (cost per action) models, and thus the remuneration awarded for the obtained lead or filling out the contact form, are one of the most popular billing models for affiliate publishers, but of course there are many options for this kind of cooperation. A company that pays for the contact details of potential customers is much more exposed to false leads.
What can be the consequences of using fraud leads?
A company that receives a lot of incorrect contact details from its website should check if the form's mechanism works correctly and invest in modernizing it. It is possible to add different algorithms to validate data (such as phone number, pesel number or internet domain in the email address) - if the user incorrectly enter certain information - the form will indicate a potential error. However, if all these types of firewalls work correctly, and yet there are large amounts of incorrect data - this may be evidence of unfair competition. Establishing contact with a potential customer is time, and time, even for small companies, is key - competition is aware of this and can use the contact form to waste some of yours valuable time. Providing the wrong, but technically correct, telephone number guarantees that the time you or your employees devote to making a phone under the wrong number will be wasted. Also remember that when you contacted a fake lead, you could contact a real potential customer. Therefore, the lost time should be considered in two dimensions - the cost itself, but also the missed opportunity. You may also encounter an uncomfortable situation when the owner of the telephone number incorrectly entered in the form did not agree for contact. Similarly, it may be in the case of incorrect email addresses. Such unconscious, mistaken attempts to make contact can affect the appearance of negative opinions about your company (like "harassing company") and even lead to the reporting of unjustified processing of personal data.
In the case of advertisers, the matter is obviously much more serious. In addition to the listed problems, you also need to consider the financial aspect. The company settles accounts with the partners for the obtained lead and if it does not recognize the frauds, it must pay for them. In addition to time lost for service and verification, this advertiser pays a commission to his partner for useless data. As a result, the advertiser pays a cheater who pretends to be his partner. Regardless of the size of a given company, acquiring new clients is one of the key conditions for its operation. Unfortunately, it creates a place for dishonest competitors and cheats, who willingly use every opportunity to earn on somebody's loss. There are many types of online scams and there will probably be more - make sure you understand the problem and do everything in your power to protect your business. If you do not know how to monitor your leads and how to solve the problem of fraud leads - contact an external company - such as Traffic Watchdog - which specializes in such matters.