Old but still hot! - which advertising solutions known for many years will be on top in 2023?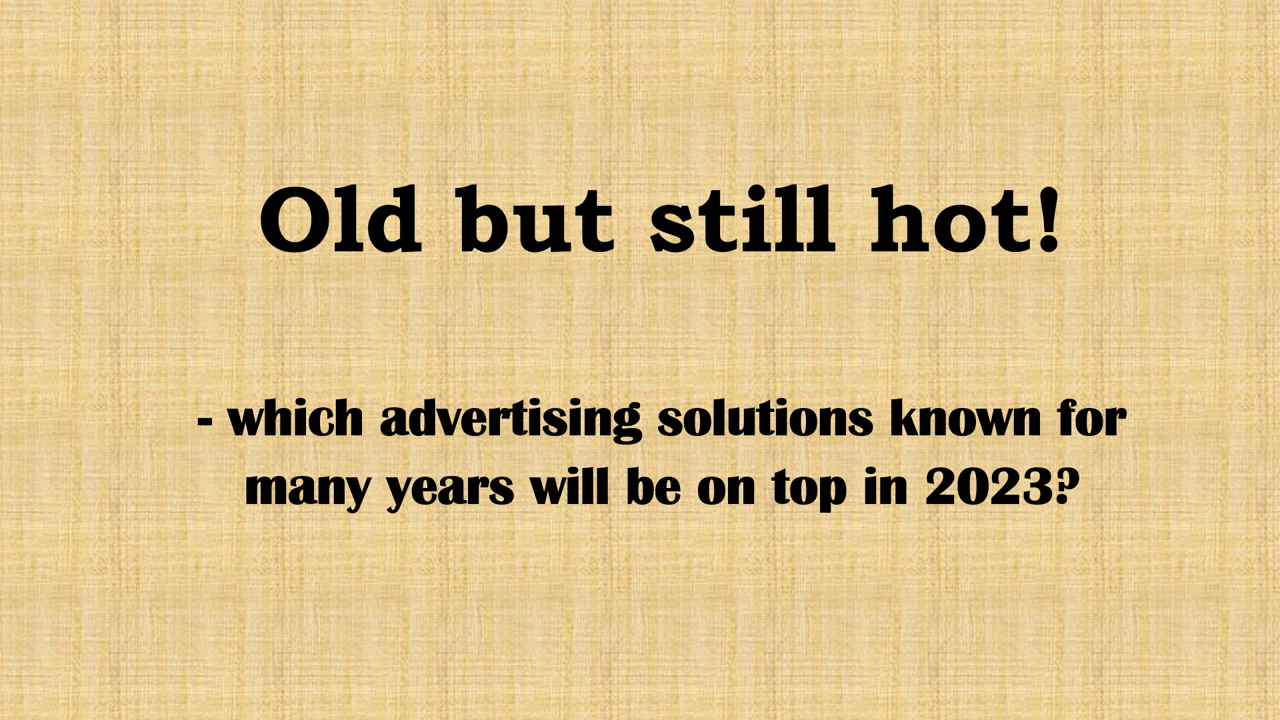 source: own elaboration
Not all marketing trends for 2023 are new. Among them, we will also find several solutions that have been working well for years. These include, for example, video as a form of advertising, chatbots as a must-have in customer service, the participation of influencers in marketing campaigns or the personalization of messages. Not without significance (especially in relation to personalization) will also be issues in the field of privacy protection and the fight against advertising fraud. Let's check what changes in these areas experts predict in the coming year.
Video marketing is still the most important form of advertising!
Video has been considered the best form of graphic advertising from the investment point of view for several years - regardless of whether it is a presentation of the company, product, employees or an instructional video. This year, short videos are expected to continue to grow in popularity, primarily because they are the most shared by users (almost 2 times more often than other content), and thus the easiest way to achieve impressive reach. YouTube Shorts, TikTok and Reelsy led the way in 2022 and in 2023 they don't intend to leave the podium. The development of video marketing materials is supported by development of technology - year by year the cost of producing such ads is lower (and this year we will certainly see many video spots generated by AI), larger mobile data transmission packages make it possible to watch video virtually anywhere, and better quality off image on mobile devices makes the movies look almost as good on a smaller screen as those broadcasts in cinema halls. According to HubSpot, a video lasting no more than 60 seconds has the highest ROI of any form of social media communication. As a result, many brands place video ads at the center of their marketing campaigns. However, the key argument in favor of implementing them is the fact that this form of communication is most suitable for the users themselves - almost 7 out of 10 of them admit that when they get to know a new product or service, they will most likely watch a short film about it. Of course, this doesn't mean that this form of marketing will be suitable for every business, but it is certainly worth considering.
A new Influencer Marketing.
In 2022, UOKiK (Polish Office of Competition and Consumer Protection) took a closer look at influencers and whether they labeled advertisements correctly, and as a result, many of them were charged with high financial penalties and their authority was undermined. Soo it would seem that this year influencer marketing will lose its importance - but nothing could be more wrong. In coming 12 months we'll probably see even more sponsored content on YouTube, Instagram, TikTok and Facebook, although brands will be careful in choosing the influencer to represent them. It's not the quantity that should be important this time, but the quality - so the important won't be how many followers someone has, but who are they and how involved they are. The person chooses to promote a given brand among his "audience" should be closely related to the industry in which the advertised company operates and will be expected to devote a lot of time to present it properly. Influencer marketing will therefore still be an important marketing direction, albeit in a slightly different version - influencers of small and medium caliber, especially those not related to a specific subject, may have much fewer proposals than before, but those most recognizable or specialized in niche industries will probably have a very busy year ahead.
Chatbots? Of course!
Another marketing and customer service solution that the largest brands have been using for years are chatbots, i.e., automated programs designed to conduct conversations with customers. Of course, over the last few years there has been a real revolution in this area - from bots that only transmit a message or refer the client to the appropriate department, to self-learning ones that are virtually indistinguishable from humans. The latest software of this type belongs to the Conversational AI category, i.e., artificial intelligence models specialized in conducting conversations. These types of chatbots not only provide comprehensive answers to questions, information about orders and complaints, or offer additional assortment, but based on a few messages they can sense the mood of the interlocutor, adapt the language of speech to it, and even guide the entire conversation appropriately. Most importantly, they are available to customers virtually non-stop and allow you to quickly solve a given problem - and that is according to consumers the greatest value.
New tools to personalize ads.
While third-party cookies may this year finally go down in history, that doesn't mean we won't receive personalized ads. Although many consumers are terrified that advertisers "read their minds" by showing exactly the product they need at the moment, the vast majority of them prefer personalized advertising messages. They perform better in basically every category - why? Because it's easier to sell something to someone who is actually interested in buying it! That is the fact and no online marketing platform is going to give up personalize marketing messages. It is not without reason that Google has changed the date of withdrawal of so-called third-party cookies (i.e. all entities other than the user and the owner of the website he visited - most often these are marketing agencies, affiliate networks, all intermediary companies, partners of the website owner, etc.) three times now - because although the Internet giant has been developing Privacy Sandbox for several years, which is intended to eventually replace cookies (allowing advertisers to further personalize ads, while maintaining user anonymity), it will still be a while before it becomes a standard. Of course, there are also other ways to personalize ads - the use of data collected by website owners, enhanced conversions, user ID or server-side tracking, not to mention tools that can fill data gaps thanks to the use of mathematical modeling.
Confirmation is not enough!
The coming year is to change a lot also in the field of personal data protection. Among other things, the user won't have to accept the conditions imposed on him by the owner of the site. It may be necessary to obtain his consent (consent mode), which he will be able to grant only to a certain extent. Therefore, online stores will have to implement consent management, i.e., obtain prior consent from users for tracking. What about refusal? This will also change a bit, because if user won't give his permission to such actions, the website owner will actually have to block tracking.
Ad Frauds do not let go.
For years, we have been explaining to our clients and users how important advertising frauds are and how large losses (not only financial) they can cause, and unfortunately, year after year we have further confirmation of these words. Both in Poland and around the world, online marketing fraud is becoming an increasingly dangerous problem and fraudsters are taking over even bigger part of advertising budgets. Technological development doesn't help either - frauds are more daring and at the same time more difficult to detect. While the industry has been talking about protection against advertising fraud for a long time, now the focus is on fighting them. In the coming year, many expert groups will be established, whose task will be to look for solutions to this problem, and not just to detect it or protect against it, as has been the case so far.