What advertising solutions should you invest in in the coming year? We present new marketing trends for 2023.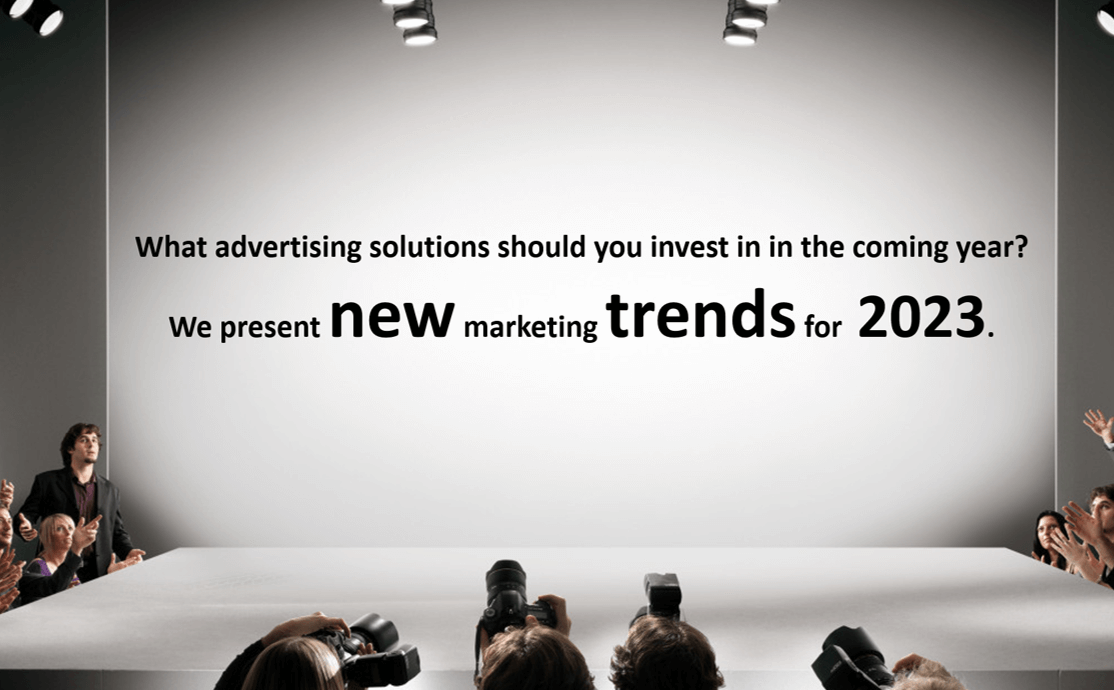 source: own elaboration
Marketing, and especially online marketing, is dynamic and flexible - it makes sense (both economical and image-related) only when you know which channels to invest in and how to formulate messages so that they are properly received. Context is extremely important, and in this case, it is created by both current events and technological development. Hence, a good marketer must be a great strategist and at the same time have an extremely developed ability to improvise, not to mention unlimited resources of creativity. Above all, however, he must know the latest trends! What marketing solutions will specialists invest in in the coming year? Let's check what are, according to experts, the most important marketing trends for 2023.
It's not moments that count anymore, but micro-moments...
One of the latest trends in digital marketing will be the so-called micromoments, i.e., impulsive moments when the consumer wants to immediately satisfy the need to buy, which has just appeared. According to Microsoft, our ability to concentrate has now fallen from 12 seconds (in 2000) to just 8. Marketers will therefore need to take this potential consumer impulsivity into account when creating marketing strategies, and provide them with even more personalized search results. Google lists 4 categories of micro-moments: I want to do; I want to know; I want to buy and I want to go – all can be used to your advantage (for example, to improve your competitive position or image among Internet users), but to cope with this new, instant decision-making process, you need to capture the audience's attention in literally a micro-moment and keep it for much longer.
Wykorzystanie AI (sztucznej inteligencji) w marketingu.
Artificial intelligence has been used for several years to optimize advertising campaigns and virtual customer service, but a new trend will be to use it to create marketing creations, especially graphics and content. At the end of last year, there was a lot of talk about AI-generated images and programs that provide such services - as Midjourney or DALL-E. Certainly, similar platforms are already being created in the field of video content created by artificial intelligence. While the topic is controversial, especially when it comes to copyright, we are confident that many brands will use machine-created imagery in their campaigns. If not out of savings (graphic designer services aren't the cheapest), then out of curiosity or simply the desire to be "up to date". When it comes to ordinary written content - you can pick and choose in programs of this type - only on the Polish market there are dozens, or maybe even hundreds of programs based on content generated or edited by artificial intelligence. The most famous are Jasper.ai (formerly Jarvis), Frase.io, Surfer SEO, copy.ai, rytr.me, and anyword. Most of them are based on GPT-3 technology or similar proprietary software, and although they are usually paid (usually after a short free trial period), they can certainly be very helpful both in creating longer content for the site as well as shorter ones needed for marketing creations. Thanks to AI, campaign programming itself has also become simpler, which allows for even better SEO automation, and the latest solutions using intelligent programs also offer sentiment analysis. What is that?
Sentiment analysis, i.e., guessing emotions.
Sentiment analysis is based on artificial intelligence processing natural language (NLP). A specially designed algorithm processes the utterance and analyzes the emotions behind the message. Thanks to this, you know whether the content is positive, negative or simply neutral. There are many applications for this new solution - from guessing the intentions of customers, employees and partners, through improving automated customer service systems to checking how your content can be received outside.
Are VR and AR marketing of the present?
In the past, VR devices were unattainable for an ordinary consumer, but technological progress has made them slowly become our everyday reality. No wonder that one of the most anticipated marketing trends this year are campaigns conducted in virtual reality. This fascinating solution allows you to create 360-degree projections and provides experiences that no one dared to dream of a dozen or so years ago. However, due to the requirement to have additional equipment (such as appropriate glasses) VR is usually just an additional flavor in marketing campaigns, although of course there are exceptions.
On the other hand, the use of AR (Augmented reality) in marketing creations is becoming much more common - it is, in a way, a combination of the real world and the computer-generated one. A good example here are the filters that we can apply in real time to our cameras when we take pictures or during video conferences. Many brands are planning to incorporate augmented reality into their marketing activities or have already done so (e.g., Amazon, IKEA, L'Oreal or Sephora). Virtual fitting rooms help to choose the size, the right filters to choose the shade of the cosmetic that is perfect for our skin, and thanks to interior scanning, the products will visualize themselves in our room. All this means that we are entering a new era of online shopping. It is also worth noting that this type of content quickly becomes viral - thanks to establishing interaction with the recipient, they effectively attract his attention and make him willing to share it with others.
Sharing User Generated Content.
Consumers trust other Internet users more than companies, which is why opinions, descriptions and customer reviews are so important, and 2023 will strengthen this trend even more. Experts recommend making it easier for users to add this type of content, especially those containing photos or videos, although of course you should be careful and check whether they come from real customers. Interestingly, deleting negative reviews is not recommended at all. An appropriate response to this type of content (proposing a solution to the problem, a public apology, admitting a mistake, compensation, etc.) can be good for you. Customers aren't looking for products and services that are presented as "perfect", because they seem suspicious to them. A little bit of criticism won't hurt, and sometimes you can turn it to your advantage - it can help build credibility and increase your social media reach. Also, keep in mind that user-generated content is much more than just opinions and ratings – it includes any content that users themselves create. It can be a video or a photo on which the product is visible, but it doesn't have to be the main theme - it is worth searching for such materials and ensuring that your product is noticed in them - for example, commenting on such content from the official account, creating catchy hashtags etc. This will allow potential customers to see how the product works in the real world.
Contact with the client via social media?
Of course! The presence of the brand in social media is to build its image as close and accessible. If you want your company to be perceived in this way, you have to take care of it - respond quickly to messages, react to signs of involvement, etc. If you manage to create a bond with user, he will probably be more willing to share our content, he may also be more active and engaged, and yet that's what you want to achieve. And it's not just about contact with the customer, the sale of products in social media (so-called social selling) is also becoming more and more popular.
Interactive advertising and smart content.
Currently, everything must be dynamic and flexible – advertising and the content you show as well. Therefore, the marketing trends for 2023 will include interactive ads and smart content. The first concept concerns messages that change in some predetermined case, for example, depending on the weather outside. The second is the display of content that is precisely tailored to the preferences of a given person.
Let's focus on a positive message!
War, pandemic, raging inflation - recent years have been full of heavy and negative events. This is also reflected in consumers who want light, pleasant entertainment that will help them get away from reality. This trend is already visible in the advertisements of Polish brands - for example, the campaign of a popular bank under the slogan "save for the white hour", calling for collecting funds to make dreams come true, not in case of an unpleasant event. Internet users are overwhelmed by sad news, so make sure that your message is a pleasure for them.