How much has Ad Frauds cost the advertising industry in the last 5 years?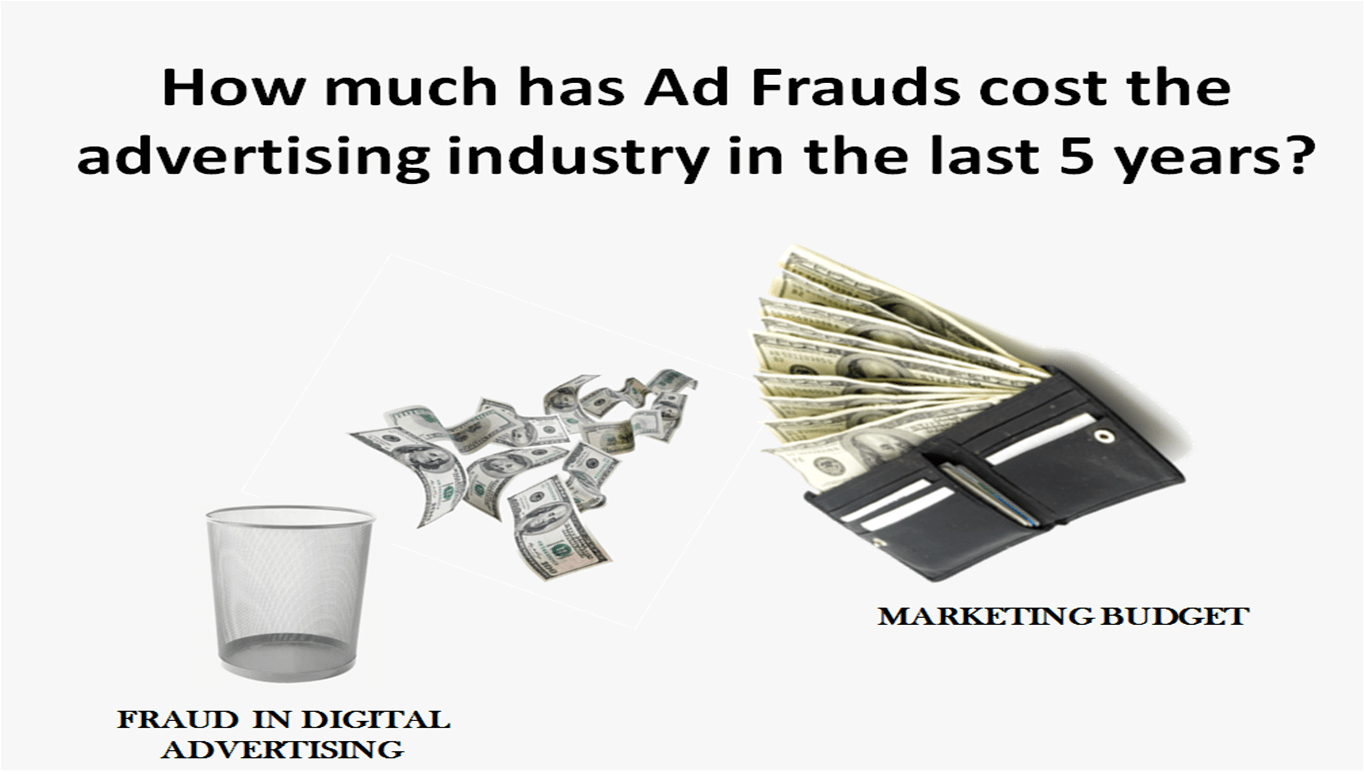 source: own elaboration
Measuring the cost of digital advertising fraud isn't easy for many reasons. First of all, a significant part of Ad Frauds still remains undetected and is therefore not included in the financial statements. In addition, due to their large diversity, it is sometimes difficult to determine the actual losses that a given fraud has brought the advertiser - it is about fake ratings and comments, fake news, impersonating well-known brands social media accounts, etc. Such activities bring obvious image losses, but it is often impossible to estimate their material cost. Even if the fraud has been detected and it is measurable, the scale of the fraudster's operation and the details of his cooperation with advertisers (such as specific rates and conditions for participation in individual campaigns) are not necessarily known, which may result in incompleteness of Information. After all, we are currently dealing with so many types of Ad Frauds that including them in one report would be extremely labor-intensive and would require unattainable data. All this contributes to the fact that the overall cost of digital advertising fraud can be at best estimated, and specific entities provide their forecasts based on different methodologies, which makes it very difficult to compare them with each other.
We can assume that Ad Fraud consists in deceiving advertisers or intermediaries in advertising campaigns (such as marketing agencies or affiliate networks) into believing that the fraudulent activity generated by the fraudster (clicking, displaying an advertisement, downloading an application, etc.) is real and its purpose is to extort payment for such action. In fact, however, such a statement is a big understatement. Obviously, a fraudster may be a dishonest publisher who cares about material benefits, but it may also be a partner (for example, a marketing agency or affiliate network) who wants to present better cooperation results or a competitor. In such a situation, both the methods of action and its purpose may be completely different.
Domain Spoofing, Click Injection, Cookie Stuffing, Pixel Stuffing, Geo Masking, Ad Stacking, Ad Injection, Attribution Hijacking, Click Farms, Malicious BOTS, Fake Clicks, Leads, Likes, Comments, App Instal etc.- these are only the best-known forms of advertising frauds. In practice, there are many more and even experts don't know about all of them. The creativity of fraudsters has no limits, making it impossible to accurately measure the scale of the Ad Fraud phenomenon and its costs. However, this doesn't mean that there are no attempts to estimate the losses incurred by advertisers by unfair advertising activities on the Internet. Below we present statistics on this issue in 2018-2022 from various sources.
2018
According to Andreas Naumann, head of the fraud department at Adjust, as many as 9 out of 10 mobile campaigns are victims of advertising scams. His calculations show that in 2018 such fraudulent activities cost the world over $ 5 billion. On September 26, 2017, a Juniper Research report was released estimating that advertisers worldwide will lose about $ 19 billion in advertising fraud in 2018. The researchers also said the number will continue to grow, reaching $ 44 billion annually in 2022.
2019
In May 2019, a report by White Ops and the Association of National Advertisers (ANA) was released, which analyzed 27 billion ad impressions. It predicted the cost of advertising fraud in 2019 to be $ 5.8 billion. However, Juniper Research gave an almost nine times higher forecast for the same period - $ 42 billion. There are different figures also in the CHEQ report - $ 23 billion.
2020
A study by CHEQ in collaboration with the University of Baltimore found that in 2020 alone, financial losses from online advertising fraud amounted to a global $ 35 billion. Interceptd cites similar data - in their opinion, the total cost of advertising fraud in 2020 was $ 34 billion. During the same period, the global digital advertising market was valued at $ 333 billion, meaning Ad Frauds devoured more than 10 percent of all online advertising spending.
2021
As Forbes writes, according to Zenith forecasts, the digital advertising industry in 2021 grew globally by 15.6% compared to 2020, reaching a result of $ 705 billion (so almost twice as much as estimated above). How much of this did the scammers grab? A Juniper Research study found that global Ad Fraud losses amounted to $ 59 billion in 2021, and will increase to $ 68 billion by 2022. Clickcease, on the other hand, in The Ultimate Click Fraud Statistics 2022, cites a CHEQ report which shows that the total cost of online advertising fraud in 2021 is approximately $ 42 billion. The latest research cited by the wise marketer in Ad Fraud Costs U.S. Businesses Billions Every Year: It's Time To Take It Seriously, by contrast, claim that it was $ 65 billion.
2022
Interceptd, in its article Mobile Ad Fraud 2022 Predictions forecasts that in 2022 the global cost of online advertising fraud will be $ 87 billion. As already mentioned, Juniper Research estimates it will be $ 68 billion, and in the aforementioned article that appeared in the wise marketer, this figure was estimated at $ 81 billion, an increase of more than 15% year-on-year.
As the above statistics show, the cost of digital ad fraud for advertisers is very difficult to determine. We don't have unambiguous data that would allow us to accurately calculate how much it amounted in individual years in the 2018-2022 range, but we can certainly conclude that from year to year it corresponds to higher and higher values. Regardless of what data we consider, one thing we know for sure - advertisers' spending on Internet marketing fraud is increasing and it is unlikely that this trend will be reversed in the next few years.