How to exclude individual IP addresses in Google Ads campaigns?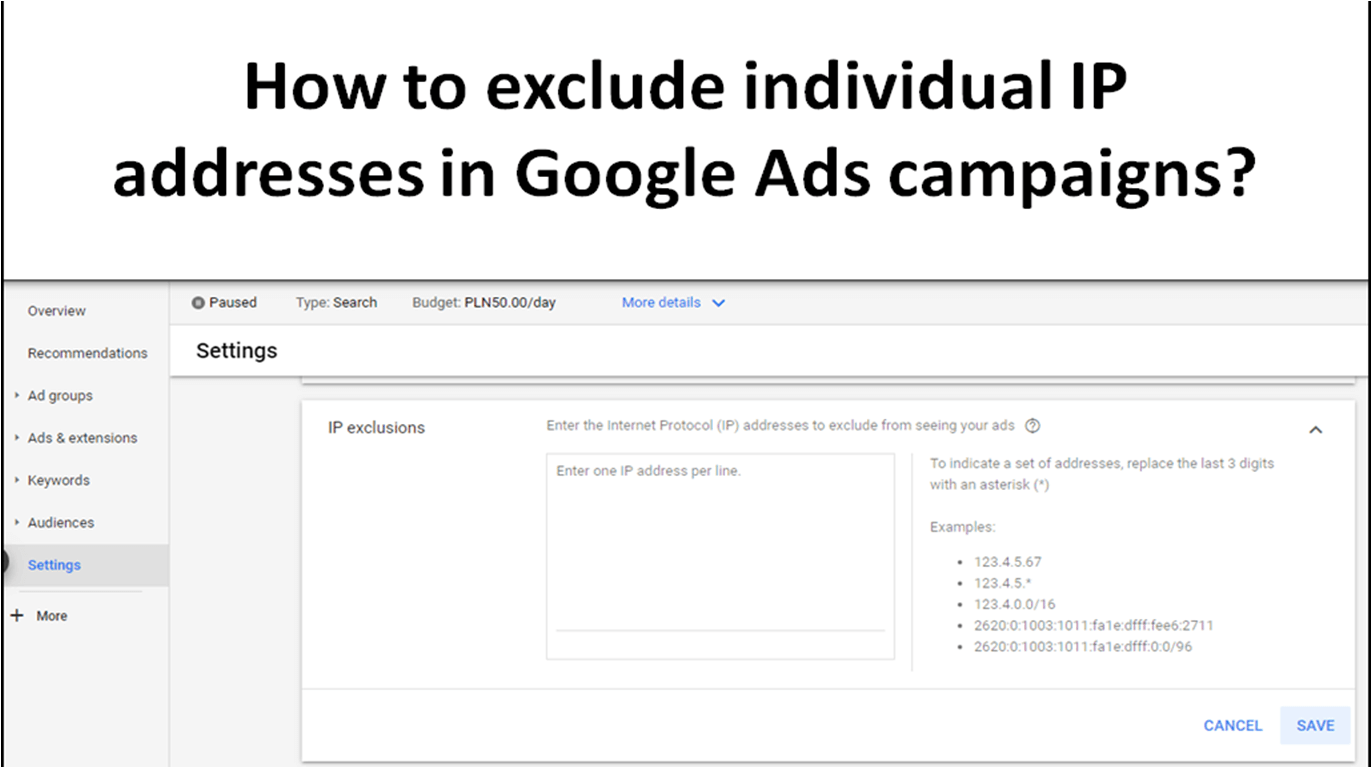 source: own elaboration
We have recently described what IP addresses are, now we want to go a step further and explain how to exclude individual IPs in Google Ads campaigns. First, however, we will try to explain why you should consider excluding IP addresses in your campaign settings at all?
Clicking on ads by competitors, tests conducted by employees, ineffective clicks from suspicious IP addresses - these are just a few cases when you might want to consider excluding some IPs in your campaigns. This allows you to block ads from appearing in specific places - for example, exclude your home computer or company network so that ads in a given campaign don't appear on devices associated with these addresses. This solution can be helpful in reaching the right recipients, improve the effectiveness of the campaign and significantly reduce marketing costs. So, there are many pros, and the whole process is very easy. We described it below.
Step-by-step instructions on how to exclude individual IP addresses in Google Ads campaigns.
Log in to your Google Ads account.

Select the campaign from which you want to exclude IP addresses.

Enter the settings and check if they have the option IP Exclusions. If not, find and click Additional Settings in the list, and then look for the IP Exclusions option (it will probably be the last in the list).

If you have not excluded any IP addresses so far, this option will display the message "No exclusions set". To select the IP addresses that you want to exclude click this option.

The next step is to enter the IP addresses that your ads shouldn't be displayed (such as your IP address, your employee's IP addresses, suspicious IP addresses collected by you, etc.). Remember that excluding IP addresses will only work for the specific campaign for which it was entered.

Excluded IP addresses should be entered one at a time, always assigning one line to one IP address. If you want to exclude a set of addresses, replace the last 3 digits with an asterisk-*. Also remember that an IP address can have many variants, so it's best if you exclude them all.

When your list is ready, click SAVE.
These few steps are enough for Google not to show ads in this campaign to given IP addresses. What can you do to reverse this process and remove the IP address from the list of excluded addresses? Do the same, but instead of entering the IP address, delete the line containing the IP you want to delete and click SAVE.
Excluding IP addresses in a given campaign isn't difficult - if we have a list of IP addresses, we can add settings in a few seconds - but it won't always be the perfect solution. First of all, we must have IP addresses that we want to exclude. And getting them will not always be easy. Secondly, Google will be able to exclude an IP address only if it recognizes it - and if it is not able to exclude IP addresses, it will still generate impressions and clicks. This option is also not available for all campaigns - you cannot set IP exclusions for video campaigns, app promotion campaigns, and smart campaigns on the Display Network. For these and other reasons, it is often better for local businesses to prevent ads from appearing in specific locations than by excluding IP addresses. Also, for larger companies, manually excluding addresses can be cumbersome. TrafficWatchdog and other companies specializing in protection against Internet frauds offer their clients a comprehensive, automated solution to the problem of excluding IP addresses in Google Ads campaigns.