Check if your Google Ads ad clicks are correct! Where on the Google Ads account you can see invalid clicks?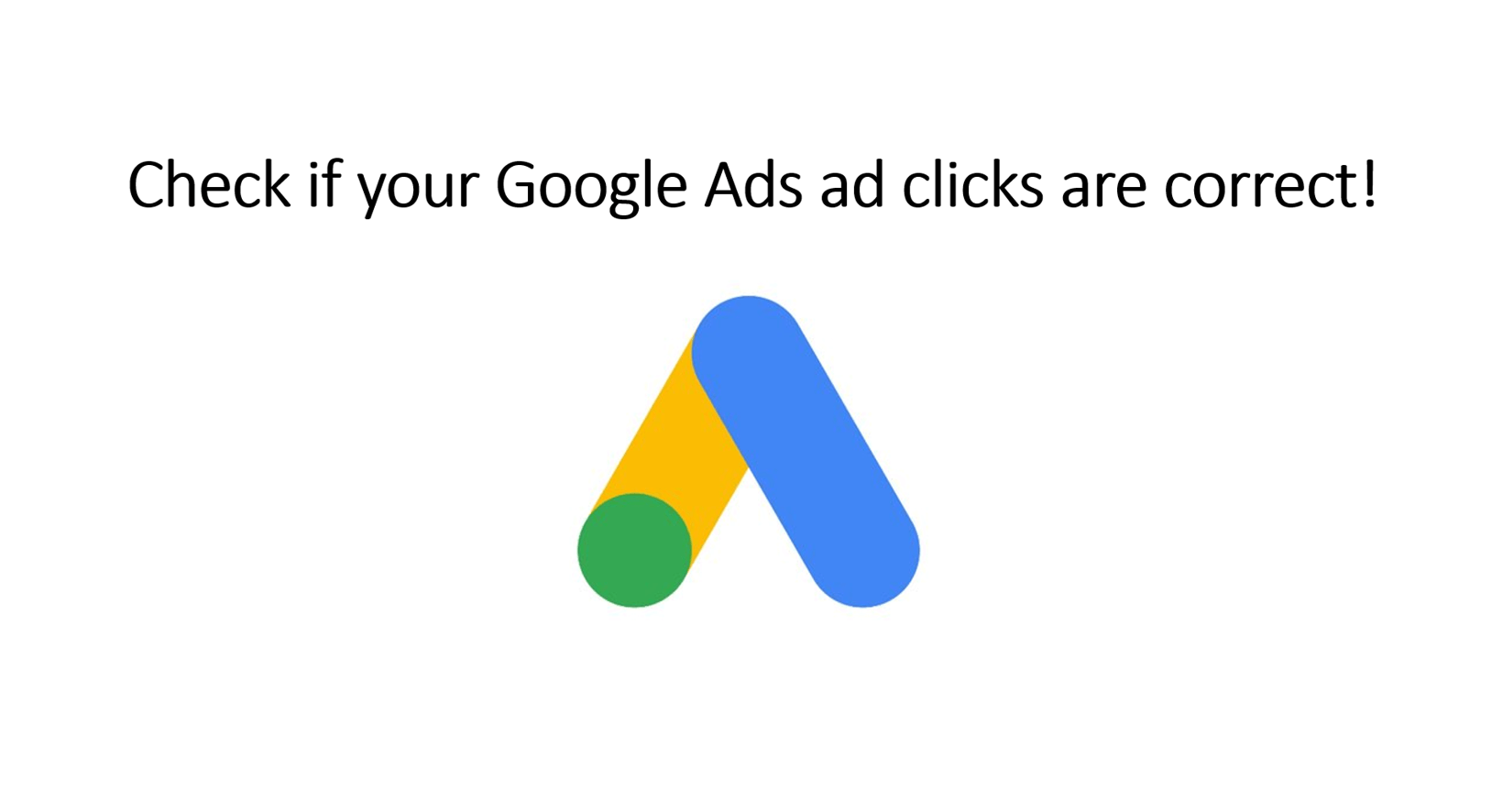 source: own elaboration
Google Ads is a very popular form of advertising, absorbing huge parts of marketing budgets. Incorrect clicks caused by bots, competitors and dishonest partners can (and often do) generate the majority of traffic generated by it. Incorrect clicks are a waste of money (because if Google do not recognize the fraud you will be charged for it), time (wasted on analyzing the wrong data and looking for bad results reasons) and, most importantly, customers who may not be able to reach your site because someone has unfairly click spammed your ads.
In the case of Google Ads, the fee is usually charged per click. This happens automatically when someone clicks on your ad by collecting a payment from a pre-paid Google Ads account. But what happens if the click wasn't correct?
If Google interprets it correctly - you will not be charged for it; if the conclusion that the click was incorrect will come to Google later - it will refund you the appropriate amount in the form of "credits"; on the other hand, if Google won't detect any irregularities - you will have to pay for it. That's why it's so important to monitor your data - fortunately, they're available on your Google Ads account.
How to find information on invalid clicks on your Google Ads account?
The statistics provided by Google on your account may be the source of knowledge about invalid clicks for you. How can you find out which clicks Google interpreted as incorrect? Log in to your Google Ads account, go to the Campaigns tab, and then modify the column view settings. Below we've described the whole operation step-by-step.
Step 1. Go to the Campaigns tab and click on it, like in the drawing below (the text Modify columns will appear).

Step 2. After the Menu appears, click Modify columns as below.

Step 3. You will be redirected to the subpage with two tabs CAMPAIGNS and AUCTIONS INSIGHTS. The tab CAMPAIGNS will start automatically. Stay on it and under the text "Modify columns for campaigns" expand the option Performance. Details in the picture: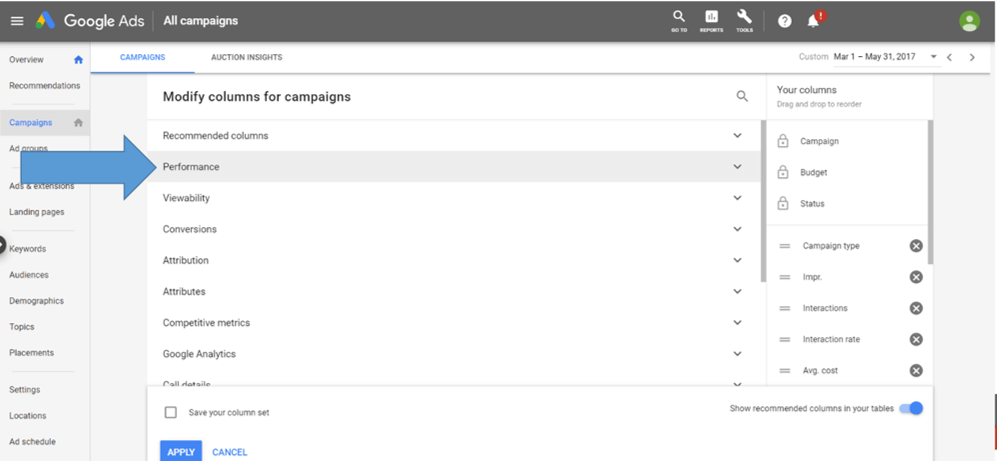 \
Step 4. After expanding the Performance option, check additionally (do not uncheck other settings, unless you want to change them), the Invalid Clicks and Invalid Click Rate window. To better illustrate which option should be ticked, the following figure shows only those fields that should be marked additionally.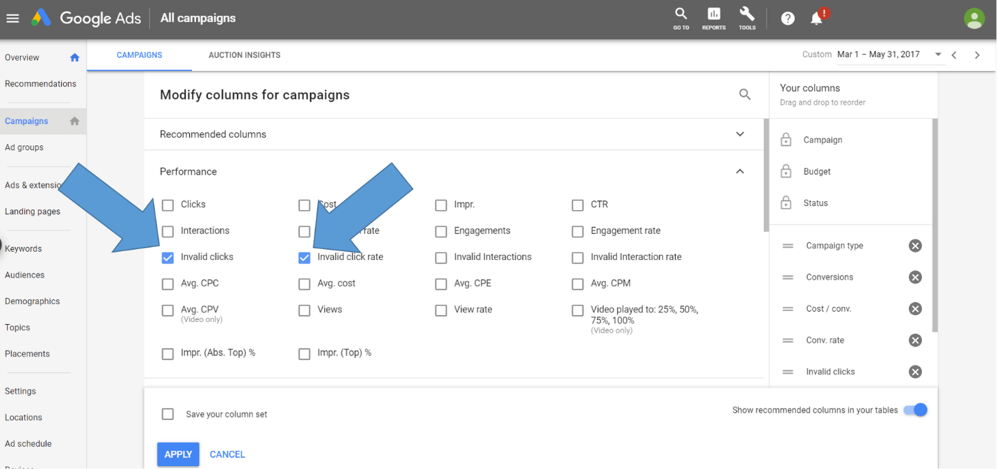 Step 5. Click APPLY.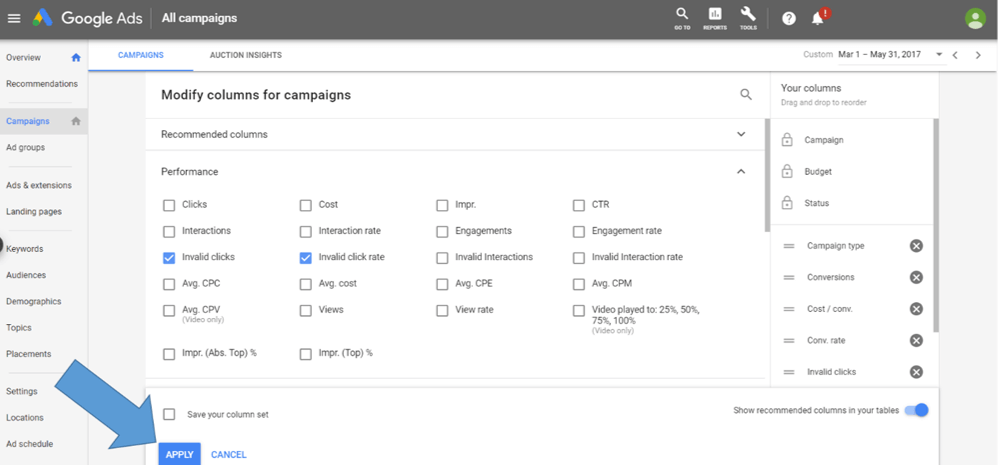 Step 6. Check which Google clicks were incorrect and what the Invalid Click rate was.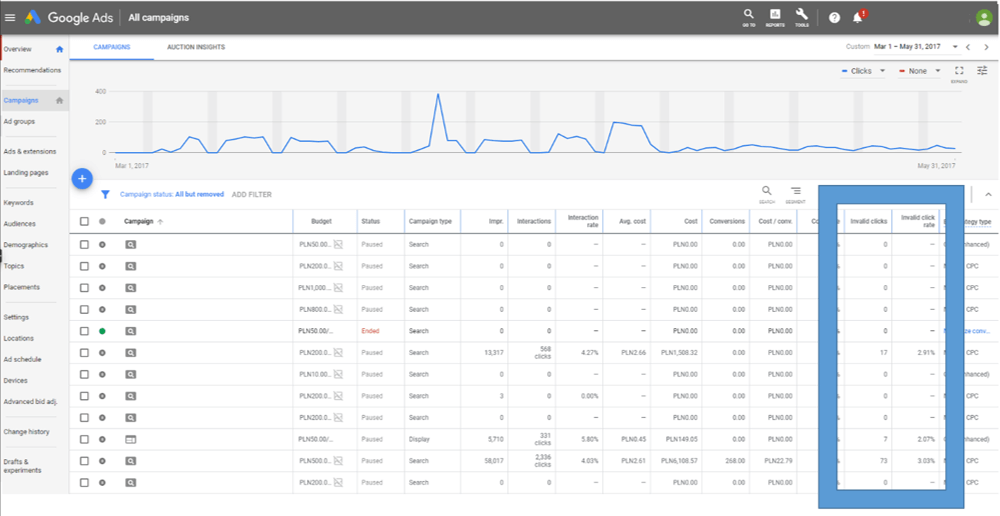 Now you know how many invalid clicks Google found in your campaigns. Make sure you won't pay for them!
What does Google define as an invalid click?
Google defines a click as invalid if:
clicks have been made manually to artificially increase the advertiser's costs or profits of his dishonest partners,
clicks have been generated using automated devices, robots and any other software designed to create large numbers of clicks without the advertiser's knowledge or
clicks were accidental - for example, double-clicking the same ad by the same user with no value for the advertiser.
The fact that Google understands all of the above examples as an invalid click does not mean, however, that he will recognize them all. That's why you should always control Google Ads statistics and, if necessary, suggest Google Support where it should look.
What should you do if you detect invalid clicks on your Google Ads account?
If you have discovered that there is a lot of incorrect traffic on your Google Ads account, you should contact Google Support with a request to start an invalid traffic investigation. Google claims it will take a few business days, but it can take up to several weeks. To report invalid clicks you will need to complete the form. The process of reporting invalid clicks to Google we have described here - https://trafficwatchdog.pl/en/articles/17/how-and-where-to-report-that-someone-is-click-spamming-your-google-ads.
You should also remember that Google will not show you invalid clicks that it wasn't able to find. It doesn't mean that they are not there, but that you must find them yourself. Of course, you do not have to do it with your own hands - for a small fee you can buy (for example in TrafficWatchDog) specialized services including blocking invalid clicks and preparing professional reports for Google.