What are Performance Max (PMax) campaigns and what are their advantages and disadvantages?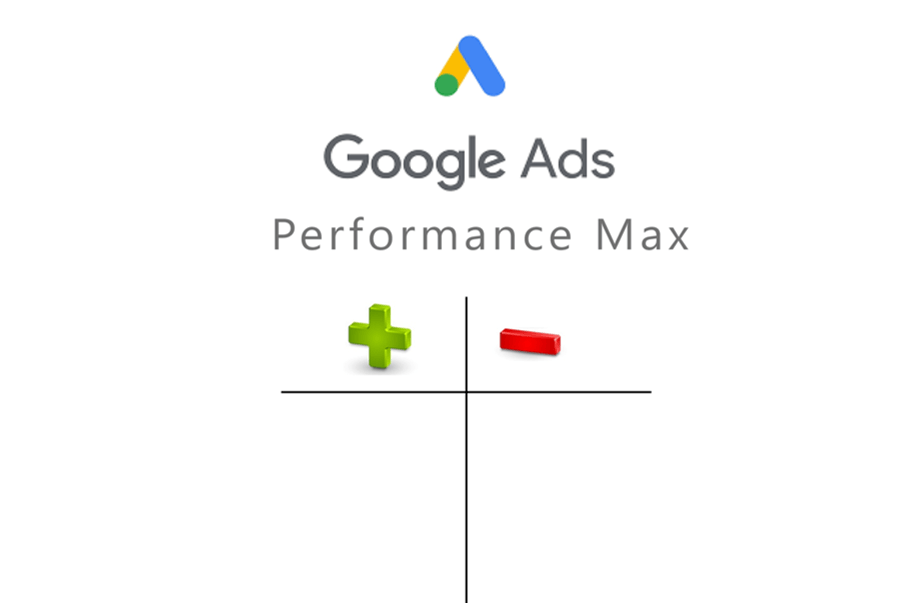 source: own elaboration
Performance Max campaigns (referred to as PMax) in the third quarter of last year obligatorily replaced the SPLA (Smart Product Listing Ads) format, popular especially among e-commerce stores, known as Smart Shopping ADS. Although this new type of smart Google campaigns is already widely used, its operation isn't clear to everyone. Below we will try to tell you about what Performance Max campaigns are, how they work and what are their advantages and disadvantages.
Performance Max (PMax) - what is it?
According to Google, "Performance Max is a new goal-based campaign type that allows performance advertisers to access all of their Google Ads inventory from a single campaign. It's designed to complement your keyword-based Search campaigns to help you find more converting customers across all of Google's channels (…)". But what does that actually mean in practice?
To put it simply, Google distributes advertising materials in various formats, provided by the advertiser as part of one campaign, in all its resources, i.e., in the search engine, Shopping, Google Display Network (GDN), Discovery, YouTube, and even in Google Maps so as to display the user with the best possible advertising message without having to provide by him specific keywords or landing pages. Interestingly, this tool is to focus on both cost optimization (it works only within specific budgets) and maximizing conversion (depending on what the advertiser defines as conversion, the tool will select recipients who are most likely to convert). Of course, it does all this automatically using machine learning.
How it's working?
First, the advertiser creates PMax campaigns, providing flexible creative resources, including: HTML5 creations, up to 15 images, maximum 5 headers no longer than 30 characters and 5 long headers up to 90 characters, ad texts (one short up to 60 characters and up to 4 containing no more than 90 characters), brand name, maximum 5 logos and no more than 5 video materials (they must be uploaded to YouTube, be at least unlisted and last at least 10 seconds) and by specifying additional parameters such as the final URL, budget and a call to action (CTA - Call To Action) selected from the list. Of course, all materials should be of the best quality. It is also recommended to add an optional feed for products, local inventory and information necessary for dynamic remarketing. Brand safety settings are also available, so you can specify content where your ads shouldn't appear.
The rest will happen automatically - the use of a special learning algorithm combined with attribution technology will allow Performance Max to intelligently determine bids in auctions that are most likely to achieve the goals set in the campaign and select the best possible ad options across all Google-owned inventory. Of course, all this will take place in real time.
As Google writes: "Google Ads automation will then find potential customers for your goals and serve the most appropriate ad, with the optimal bid, to maximize campaign performance."
Sounds good? Let's find out if this is really the case by checking what advantages and disadvantages of the Performance Max campaign are listed by experts.
Advantages of PMax
Let's start with the pluses. In many articles you can find the results of Performance Max tests conducted by Google in 2022, during which the result of the conversion value was 12% higher on average for the same or better ROAS.
Many experts also emphasize that PMax campaigns have greater reach thanks to the use of additional channels and formats such as: DSA, Discovery Ads, Youtube In-Stream ads, Google Maps pins, etc. Thanks to this, they can actually help reach new customer segments, and increase the conversion potential.
PMax campaigns allow you to replace many campaigns with one, and due to their automation, they don't require a lot of work. Thanks to this, they allow you to simplify the management of campaigns and can lead to increased efficiency.
In addition, Performance Max was created as an extension option and, according to specialists, works well in combination with paid search. Using the data collected in the user's account, it can generate additional conversions from currently untargeted keywords.
After all, among the changes in the digital marketing sector, automation is one of the most important trends. Not following it could prove to be a critical mistake.
Disadvantages of the Performance Max Campaign
However, this doesn't mean that PMax is free from defects…
As we have already mentioned, Performance Max was created as an additional tool to support existing campaigns based on keywords in the search engine, but for e-commerce stores that used Smart Shopping ADS so far, switching to it was mandatory. Certainly not everyone was happy with this lack of choice. Also, Google doesn't recommend using PMax for non-lead or non-sales purposes.
Experts point out that the budget recommended by Google when setting up a PMax campaign is $10,000 per month. It's this high because only a large scale of data allows for quick learning of the algorithms used in this solution. Definitely not every company can afford such an expense, especially when testing a new tool.
With Performance Max, Google chooses where, when, to whom and what ads it displays, which means that advertisers have practically no control over the course of the campaign after its launch. This negligible impact on budget allocation can lead to more spending on unwanted ad space. In addition, the lack of insight into where content is published can result in serious problems in the field of branding and Brand Safety.
Another problem of the PMax campaign mentioned by specialists is limited reporting. Google doesn't provide any reports on search terms, and the statistics it provides are very general, which makes data analysis at the User level basically impossible. Therefore, advertisers may have a problem with understanding where the conversions obtained by Performance Max actually come from. It is worth noting that this situation is very beneficial for Google - firstly, if the campaigns work well Users are actually dependent on it - the lack of data means that they won't be able to use it in another environment, secondly, customer service costs can be significantly lower if customers don't know what to complain about or what specific questions to ask.
Limited reporting leads to another problem - namely, very little opportunity to optimize campaigns. The advertiser can actually only exchange ineffective materials for new ones based on the number of views and Google scoring. Without the right information, you also can't tailor your bids to specific segments and channels, let alone your audience.
What can also be a hassle is that Brand Search is mandatory in Performance Max campaigns, which means that the algorithm will run any or all keywords related to your brand other than those displayed in dedicated search campaigns. And this can definitely color up the stats because advertisers typically get a 10x higher conversion rate with them than with than non-brand keywords.
For these types of campaigns, Google needs a variety of materials. If for some reason you won't add any video materials - Google will create its own based on other materials added in the campaign. Of course, it will also take place in an automated way, so unfortunately, they won't be particularly aesthetic and may not coincide with your campaign concept.
After all, one of the most important disadvantages of the PMax campaign is its susceptibility to ad fraud. The new tool can capture and/or count a significant proportion of false clicks, and nothing protects advertisers from false leads. Previously, they could view and block suspicious destinations, run special scripts, manually block specific IP addresses, or use third-party services to do it for them. This may not be possible with this new solution, as Performance Max doesn't currently offer any interface to block IP addresses.