How can fake accounts, profiles and news harm your business?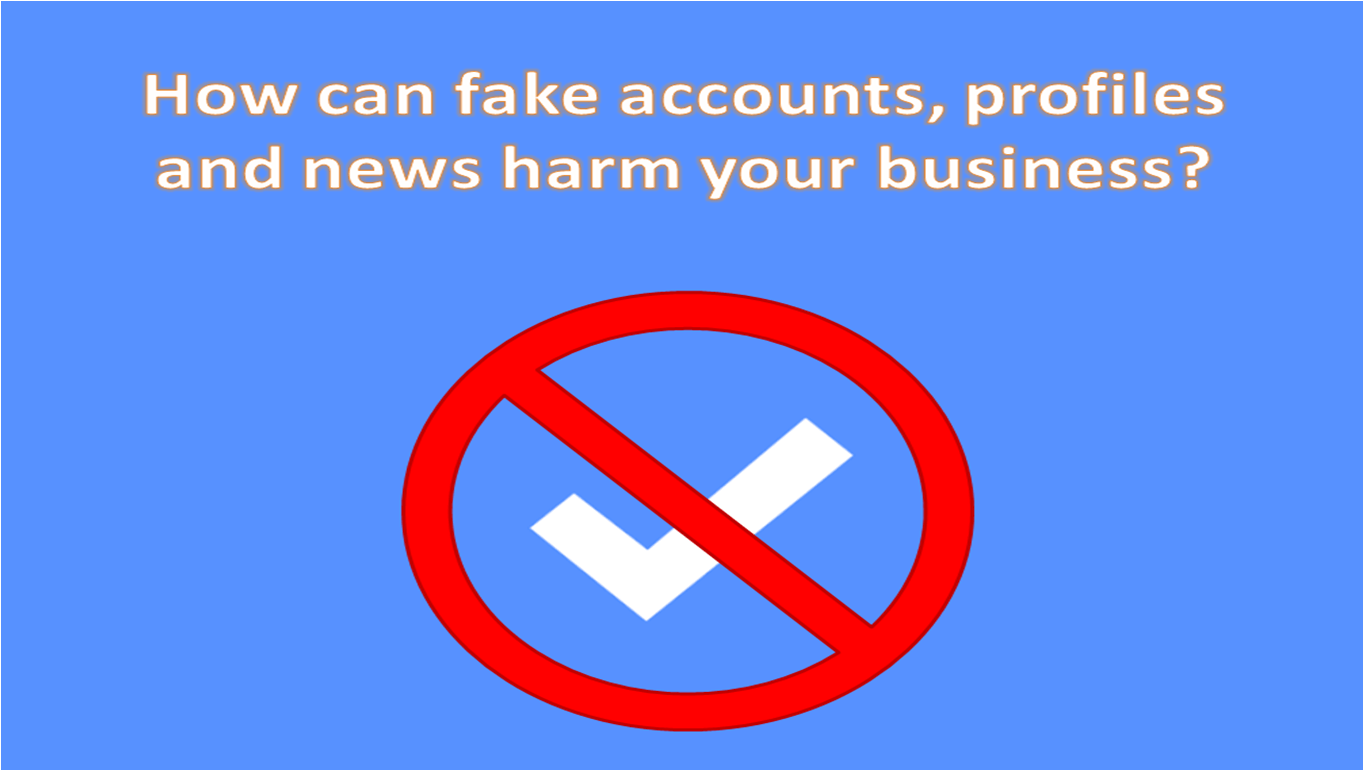 source: own elaboration
You may think that fake accounts, profiles or news are only a problem of large, recognizable brands, but it isn't true. Although, of course, these issues affect different companies and individuals to a different extent, they can affect the functioning of any enterprise, and in the case of public figures - their image. Below, we will discuss the different types of fraudulent accounts, profiles, and information, and their impact on smaller brands.
Scammers pretending to be other companies
Well-known brands are much more likely to have fictitious accounts using their name (or other characteristics), but this doesn't mean that smaller companies aren't affected by this problem. First of all, we must remember that apart from fraudsters operating on a global scale, we also find those operating locally. Such an account "pretending" your brand can be set up, for example, by a dishonest competitor or someone producing counterfeit goods or offering similar services, but of much lower quality. Since smaller brands are much less likely to have verified profiles, spoofing them is much easier. The consequences, on the other hand, can be very unpleasant - from stealing your customers, to treating potential customers inappropriately (for example, rude writing back to them or not answering them at all), to selling counterfeit products on your behalf. All of this can result in bad reviews and ratings for your company, even though you will have nothing to do with the scammer apart from the "name".
Fake news - a serious threat to Brand safety
Another form of fraud that you are probably unaware of, and that may be a threat to you, is fake news. Like rumors at school, in the age of the Internet, false information has unfortunately become our everyday life. However, we must remember that fake news doesn't have to concern us directly to harm us. The very fact that we believe such false information to be true may affect our beliefs or worldview, and by spreading and repeating them we lose credibility. In the case of companies and public figures, however, the problem is much more serious. The company must constantly monitor not only what content it shares itself, but also the context in which information about it appears. For example, if your ads are hosted on the same sites as fake news, your brand might be considered frivolous. Likewise, the mere mention of your company under fake news with controversial content can seriously affect the company's image. Fake content published on the Internet is a very serious threat to your Brand safety and you shouldn't ignore it.
Handling fake accounts - waste of time and money
Another example of fraud that can affect even small companies are fraudulent accounts, specifically handling them. You may find that, for example, your competitor is setting up bogus accounts and sending you RFPs. His motivation may be multiple - he may want to get information about exactly what rates and for what you will propose, or he may just want to waste your valuable time and / or money. The service of such fictitious customers will probably require the preparation of a specific offer, and in any case the time of the person who contacts the fraudster will be misused. Additionally, such a "potential customer wishing to place a large order" may request a free sample to test your product, etc.
False sales
After all, the fraudster can use a fake account to make a purchase as well. An example may be, ordering a product with cash on delivery by a non-existent person to a false address. If this happens, not only you won't earn anything from such a transaction, but also bear the shipping costs. Another case is the actual purchase, but with the intention of a return, the scammer may also pretend not to receive the order or that the order arrived damaged. In each of these cases, you may incur additional costs - for example, re-shipping the goods or refunding your money.
False ratings and comments - even positive ones can hurt you if they come from fraudulent accounts
There is one more issue left - that is incorrect ratings and comments. The fact that they can harm you if they are negative is obvious, but not only that. Even if the ratings and comments are positive about your business, but the source they come from is false, it can damage your reputation. First, because someone may think you are responsible for them, and therefore that you have paid for such false expressions of adoration. This will be especially the case when the account is false in a fairly visible way (typos in the company name or first name and surname, opinion that looks like it was written by a BOT, etc.). Even if at first glance a given account looks real, but in fact it is false - it can be picked up by Google algorithms or those used by Social Media, and this may affect how a given brand will look in a specific website or in search results (on example, verified profiles are displayed by some social media first).
How to recognize that a given account, profile or news is false?
Of course, we would like to give you a list here that would allow you to distinguish with 100% certainty truthful information from false information. However, it is often not that simple. The main problem here is the fact that most entrepreneurs don't have time to analyze every mention, comment or inquiry about themselves. Of course, some accounts will be obviously false - if a given account copies not only the name of another profile, but also the logo placed on it, colors, etc., we won't have any doubts. Similarly, with implausible information. Sometimes, however, distinguishing a fake account, profile or news won't be so easy - what we can advise is certainly to sensitize employees to check the data as accurately as they can and look for any "red flags". In addition, you should know exactly who your partners are and on which pages your advertising materials or content about your company appear. Most social media now also allow profiles to be verified, i.e. adding a blue mark next to the name, symbolizing that the platform itself has confirmed the credibility of a given profile. Unfortunately, obtaining such a marking isn't easy at all, especially for small companies - but we recommend to try, because it may let you avoid many unnecessary problems in the future. Additionally, Google has introduced knowledge panels, i.e. automatically generated information, photos and graphics related to a given topic from various online sources. If a given panel concerns you or if you are an official representative of the entity or institution it concerns, you can submit your rights to the panel and propose changes. Thanks to this, you will have much more control over what information about you or your company is published, where and by whom.