BOT increasing sales? Meet SALES BOT, which effectively saves abandoned shopping carts!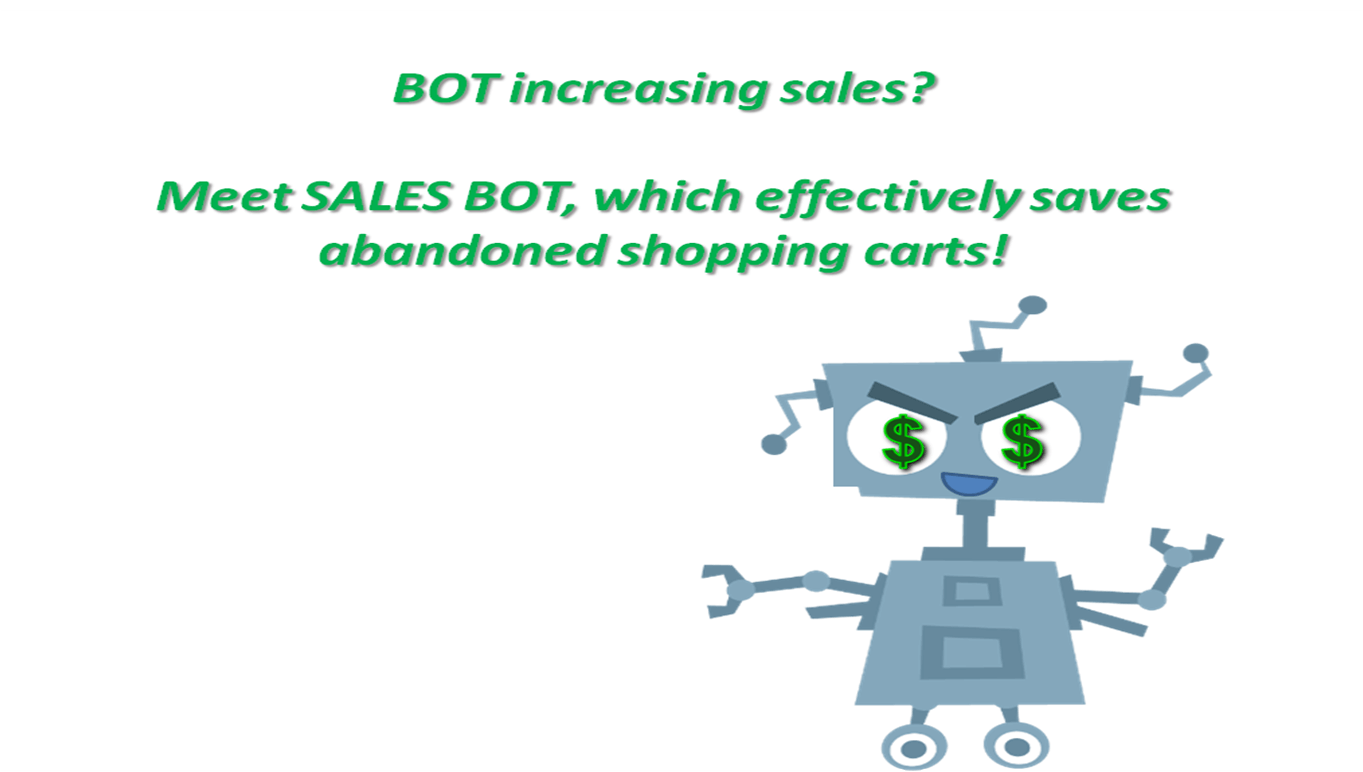 source: own elaboration
Are you wondering why people visiting your website throw products into the shopping cart and then leave the website without making a purchase? This isn't only your problem! As evidenced by the Baymard Institute, which has been collecting data on abandoned shopping carts for 12 years, the average rate of abandoned purchases in online stores is as high as 68.8%! This means that almost 70% of people who were interested in buying product in the end don't buy it. Why? There are many reasons, but the most frequently mentioned are: additional costs (mainly transport), the need to set up an account or provide a large amount of data about yourself, distant order fulfillment dates, too long or complicated purchase process, poor return policy or lack of desired payment options.
These aspects can of course be improved, but these are just some of the reasons why consumers choose not to buy the goods they are interested in. Most abandoned shopping carts (according to data from the Baymard Institute in the United States, it is as much as 58.6%) is simply a natural consequence of how users browse e-commerce sites - namely comparing prices and bargain hunting, searching for products "for the future", looking for gift options, etc. Until recently, there was no solution for such behavior of Internet users, and after all, if the visitor added a product to the cart, he had to be at least a little interested in it? Fortunately, a solution has been created that will help to use this potential.
What is SALES BOT and how does it work?
Theoretically, our SALES BOT is a sales chatbot, i.e., an automated program that displays a chat window to the user at the right moment and initiates a conversation about the purchase. In practice, however, it is a solution created specifically for a specific customer, recognizing returning users interested in a given offer, and then carrying out price profiling to determine what discount will be optimal both from the point of view of the e-store and a specific consumer. How exactly does it work?
First, we identify undecided users clicking on your ads (and thus generating costs), who repeatedly visit your site but don't make a purchase. For this purpose, we use advanced and practically reliable technology that helps to recognize a person when re-entering a given website.
If another visit from the same user is detected (e.g., 3rd visit), the next step is its price profiling, i.e., matching the appropriate discount to its price sensitivity. For this, we use a machine learning-based system that creates price profiles based on the patterns of other users who have or haven't made a purchase. If the user is classified as more price sensitive - we will offer him a higher discount, if less - lower. All this serves to satisfy both the buyer - with the discount obtained, and the seller - keeping his margin at an appropriate level.
After determining the optimal value of the discount and of course fulfilling all other conditions agreed with the customer, the SALES BOT is activated, i.e., an automatic chat during which our SALES BOT conducts a short sales conversation with the user, offering him an individual discount code tailored to his price profile. It is worth mentioning that we create both the appearance of the conversation window and the messages displayed during the conversation for specific clients and in cooperation with them, so that everything is as consistent as possible with a specific website. In addition, the discount will be shown only if the user confirms his interest in the purchase during the conversation with SALES BOT.
SALES BOT is user-friendly
Contrary to other solutions used to save abandoned shopping carts, such as exit pop-ups, intrusive newsletters or all forms of communication offering the same discount for everyone (regardless of who they are and what product they are interested in) SALES BOT is user-friendly. If potential customer isn't interested, he may simply not answer or answer "NO" to the question asked by CHAT BOT. Additionally, thanks to a special discount, unavailable to others, the consumer feels appreciated and properly cared for.
What are the benefits for your business?
The individual discount code provided in this way may be used by the Internet user when making a purchase. On average, this happens in 15% of users for whom SALES BOT has been activated. So, it is a significant number of shopping carts that were finally saved and an increase in the sales conversion rate in your store. Above all, however, an undecided customer buys from you, not your competitors.
Free 14-day trial period
We realize that in every online store the problem of abandoned shopping carts may result from different reasons. Our solution will certainly generate additional profit and allow to reduce costs in any online business, but how big the difference will be - it depends on the specific store and its customers. Therefore, we don't require you to declare yourself immediately - take advantage of the free 14-day trial period and see for yourself if it is a solution for you.