What is OTT and CTV advertising? Why do brands invest the lion's share of their marketing budgets in it?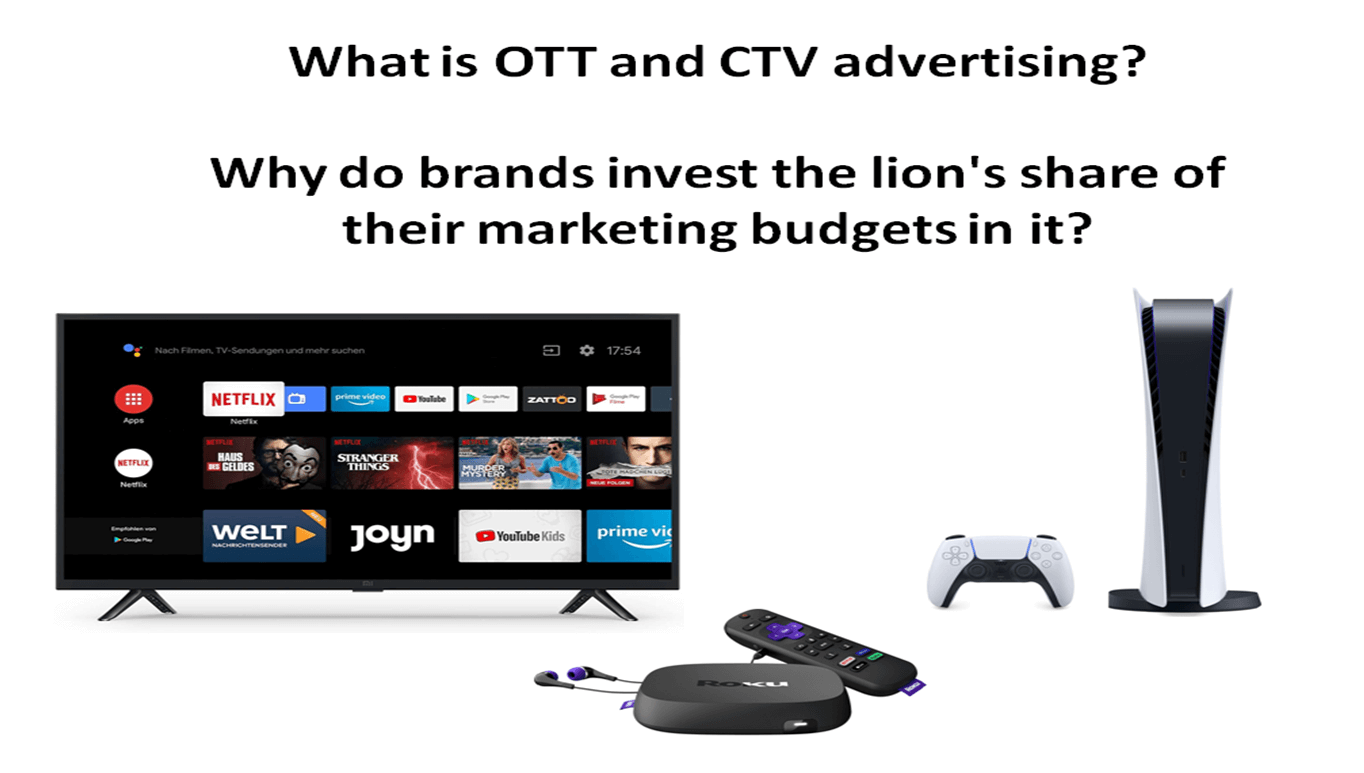 source: own elaboration
In 2020, over 6 million American households have cut themselves off from pay cable and satellite TV, and in 80% of all American homes we will find at least one CTV device. According to eMarketer, this percentage is expected to increase to 87% by 2025. OTT (Over The Top) and CTV (Connected TV) are new experiences for both consumers (for whom it is the ability to watch TV on many types of screens without the need for a cable or satellite TV subscription) and for advertisers (a way to reach a new and unique audience). What exactly do these terms mean?
What is OTT?
OTT stands for "Over The Top" and means providing the recipient with video content, either in streaming or video on demand (VOD) format, mostly using the Internet. Users don't have to pay the cable or satellite operator, instead using VOD services (the abbreviation comes from the phrase Video On Demand), SVOD (Subscription Video On Demand - i.e. a VOD service where a subscription is paid in return for access to all materials), TVOD (Transactional Video On Demand - i.e. a VOD service where you pay for individual content), AVOD (Advertising-based Video On Demand, i.e. a type of VOD service, in which, instead of paying a fee, the user agrees to watch advertisements) and other forms of streaming channels. Popular OTT services include Netflix, Hulu, Disney +, Crave or Amazon Prime, and on the Polish market – Player.
What is CTV?
CTV, and therefore Connected TV, is a subset of OTT that includes additional devices that provide access to OTT. While Over The Top is a method of delivering video content, CTV is the device by which the user displays that content. For example, if a viewer is watching Netflix on their mobile device, they are using OTT, but if they were watching Netflix through an Xbox connected to the TV, OTT content would be streamed via CTV. Devices classified as CTV are any equipment with an Internet connection that is connected directly to a TV or screen, which allows the use of applications and video streaming. These include Smart TV, laptops, tablets, smartphones, game consoles and other devices such as Amazon Fire, Chromecast, Roku and Apple TV.
Why are OTT and CTV ads gaining popularity?
Television advertising has been immensely popular for decades. This was because of its enormous scope. Unfortunately, not everyone could afford it - both airtime and the preparation of an advertising spot was very expensive. The main disadvantage of TV advertising was also very small options for targeting recipients - of course, you could choose a specific broadcast time or program within which a given ad block appeared, but otherwise the advertiser had practically no influence on who would see the ad. It was also difficult to determine how effective the marketing activities were in this area - often the only data that advertisers received came from television stations and were provided long after the broadcast ended.
While many streaming services offer their users ad-free content, it appears that many CTV viewers choose to view ad-supported content if this results in lower or no fees. As a result, OTT and CTV advertisements are much cheaper than traditional TV advertisements, and additionally allow for very precise targeting of recipients. Their advantage is also the possibility of real-time reporting. Basically, OTT and CTV marketing allows you to target your campaign similarly to other automated media such as display, native and video ads. Other benefits of using this form of advertising include:
brand security - you can define exactly in which video materials your ad should be displayed. So, you decide on the context in which your marketing message will appear.
full visibility of the advertisement - your material can be displayed in full screen, thanks to which 100% of pixels are visible, so you don't have to worry about other advertisements on a given page, because they won't be visible when displaying your message.
high average ad completion rate - the percentage of fully watched ads for OTT ads is up to 98%.
engaged audience - viewers choose the content they want to watch themselves, and thus they are more engaged and watch ads with more interest and attention.
growing audience - more and more people around the world use OTT and CTV, this is especially true among the strongest groups from the consumer point of view, i.e., young and middle-aged people.
How is CTV advertising different from OTT?
Basically, in marketing, CTV stands for an advertising channel, so while the advertisements are served via CTV, they are actually OTT advertisements. By including CTV in your advertising campaign, you decide on which channels your OTT ad is to be delivered to viewers - for example, that you want it to be displayed only to game console users.
Marketers can buy OTT ads from multiple sources - for example, from CTV device manufacturers, streaming channel owners, automated ad exchanges, digital video publishers, affiliate networks, etc.
What forms of OTT advertising can you choose?
Generally, OTT ads belong to the OLV - Online Video Advertising group. This generic term covers all forms of online video advertising, including OTT, so content delivered directly to viewers through streaming video services or connected devices (CTV). However, you can narrow down which OTT ad you want to use:
In-Stream

- This is the display of a video ad before, during, or at the end of streaming content. Often, they cannot be omitted while watching the selected movie.

Out-Stream

- on the other hand, these are video ads displayed outside of streaming video materials, i.e., in the application itself or on a specific device, but not within a specific video material.

OTT addressable advertising

means different ads are delivered to different households viewing the same video content. As a result, it allows for better audience targeting, for example based on materials viewed in the past or other user preferences.
You can also choose how you want to settle accounts with partners - e.g., by setting a rate for the video watched to the end - i.e., the amount you will pay for each display of your video ad to the end or CPM - i.e., the price for a thousand impressions of your ad.
CTV and OTT ads versus other forms of online advertising
What sets OTT ads apart from other online ads are the tracking indicators. Streamed video audiences are often unable to immediately click an ad, as is the case with traditional online marketing channels. That is why OTT and CTV advertisements are most often used in information campaigns, building brand awareness, etc. In the OTT and CTV strategy, QR codes can also be used - thanks to them, the recipient can scan the code with the phone to immediately go to the landing page.
Research shows that the inclusion of CTV and OTT ads in a marketing strategy is slowly becoming a necessity from the point of view of many brands. According to reports by Conviva State of Streaming, in the fourth quarter of 2020, the number of impressions of streaming video ads increased by 31% quarter-on-quarter, and in the first quarter of last year increased by another 13%.