What online frauds can competitors use to harm your business?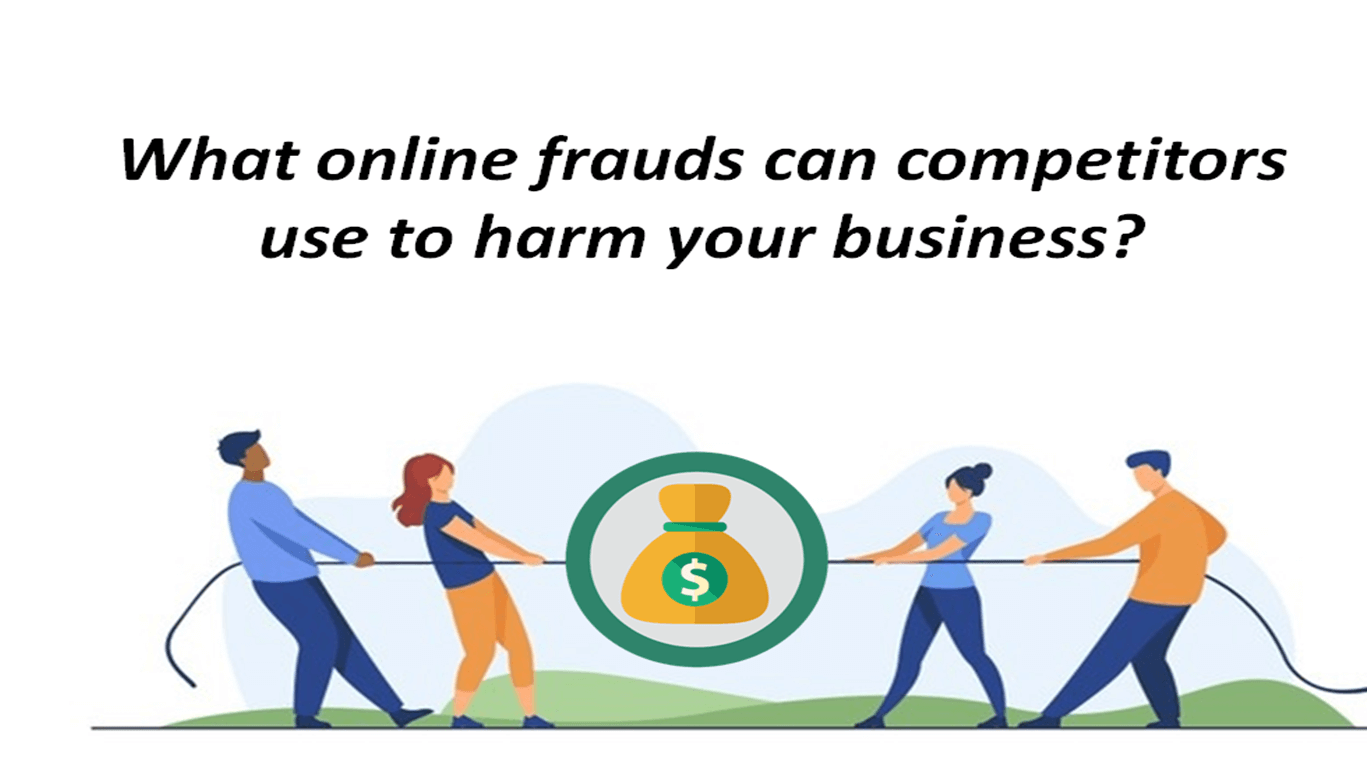 source: own elaboration
We usually describe online frauds as scams related to traffic providers and advertisers, but this time we will look at the problem from a different angle. Many of them may be used by unfair competitors to harm your company's interests. Business rivals can act on their own or hire companies that provide similar services, both with many negative consequences for your business.
Click Spamming
The simplest online scam that your competitors can commit is clicking ads in paid campaigns settled in the PPC (pay per click) model. This type of fraud on a small-scale can be carried out by the competitor by simply clicking on your ad, for example in search engines. Of course, this generates costs related to a false click, but not only that - a greater number of clicks on a given password or keywords also increases the rate for this selected phrase. In addition, if a competitor drains out your entire marketing budget allocated to clicks - on a given day, your ad won't reach a single potential customer, and you will have to pay for it anyway. The profit for your rival is therefore double - you lose, and his campaign (if of course he uses similar tools) has a greater chance of success.
Platforms employing people around the world to click - virtual click farms

However, these types of scams don't only apply to small businesses - as it may seem at first glance. In the past, the provision of such services on a large scale was provided by click farms, i.e., most often located in countries such as China, India, Nepal, Indonesia, Sri Lanka, Egypt, Philippines, Bangladesh, Mexico or Iraq, places where low paid workers click on the advertisements indicated by the farm owner. Currently, they are slowly being replaced by platforms that provide similar services for a fee - they bring together people from all over the world who generate clicks from their homes for a fixed rate (usually around 5 cents per click). Owners of similar sites additionally motivate their users with constantly updated leaderboards, bonuses and rewards that encourage competition and increase earnings. So your competitor doesn't have to click on their own - they can pay someone to do it for them. Let us add that such barely hidden websites offering services as they call it "making it difficult for your competitors to attract customers" ensure that the clicks look authentic, which makes it much more difficult to detect them.

Autoclickers

Tools for clicking ads (so-called autoclickers) can be found very easily - an example can be "TrafficBot Pro" which, as we read on the official website of the program, is "the smartest BOT to simulate real human operation" - he can visit the selected page directly from the search engine and then automatically click any advertisement on it, and its advanced functions allow you to set a random time spent on the site, mouse movement, scrolling, clicks on internal links, proxies, etc. All this makes the detection of clicks coming from it and other BOTs not easy at all. The developers didn't even bother to hide the fact that the BOT could be used for scams. As they themselves write in the description of the device's functions - "beat your competitors by clicking their ads automatically".
False leads
Similar solutions enabling fraud don't have to concern false clicks, they can also generate false leads on your website, i.e., contact forms containing false information. Again, a dishonest competitor may act alone, hire someone, or acquire a program to do it for him. You need to remember that such incorrect data doesn't come from potential customers and even if they concern real people, they don't intend to purchase the product or service, but you won't know about it until you contact the person provided in the form. So, you waste your time and resources on activities that won't end with a sale - which is very useful to your competitors. In addition, if the information contained in the fake leads relates to real people, and they haven't agreed to be contacted by you, the consequences can be much more serious - even your brand image may suffer.
Inaccurate opinions, reviews and ratings
Another fraud, in which both automatic solutions and the human factor can be used, are false opinions, reviews and ratings given to your company or the products and services you provide. Fraud can take two ways here - your competitor may rate himself positive or you negative. In both cases, he will benefit from such unfair practices.
Copying content from your website
In addition to the above-mentioned scams that BOTs are used for, you can also come across programs that copy content published on your website and paste it on other websites, most often with dubious reputation. This can lower your brand credibility and stop your content from being perceived as unique and valuable.
BOT attacks, data thefts
A more advanced form of online fraud that your competitors can use to harm your interests are BOT attacks. In this case, scammers will need to have the appropriate technical facilities or use the services of someone who has them, but this doesn't mean that similar fraud is less common. Of course, they will mainly concern larger enterprises. Such an attack is most often carried out using BOTnet, i.e., a network of infected devices, and its purpose will be to disrupt the operation of your website or steal data that you store on your servers. With such attacks, your competitor can take control of your website or steal your customers' data - so the threat is very serious.
As the examples above show, your competitors can use many different forms of online fraud to harm your company's interests and reputation. If you don't use any solutions that can protect you from such practices, you are particularly vulnerable to them, you may even be unaware that your competitors are already working against you by online fraud. If you don't know what you could do to counteract it - contact us, as online fraud protection specialists we will advise you about the best solution for you.