Internet Fraud Trends for 2021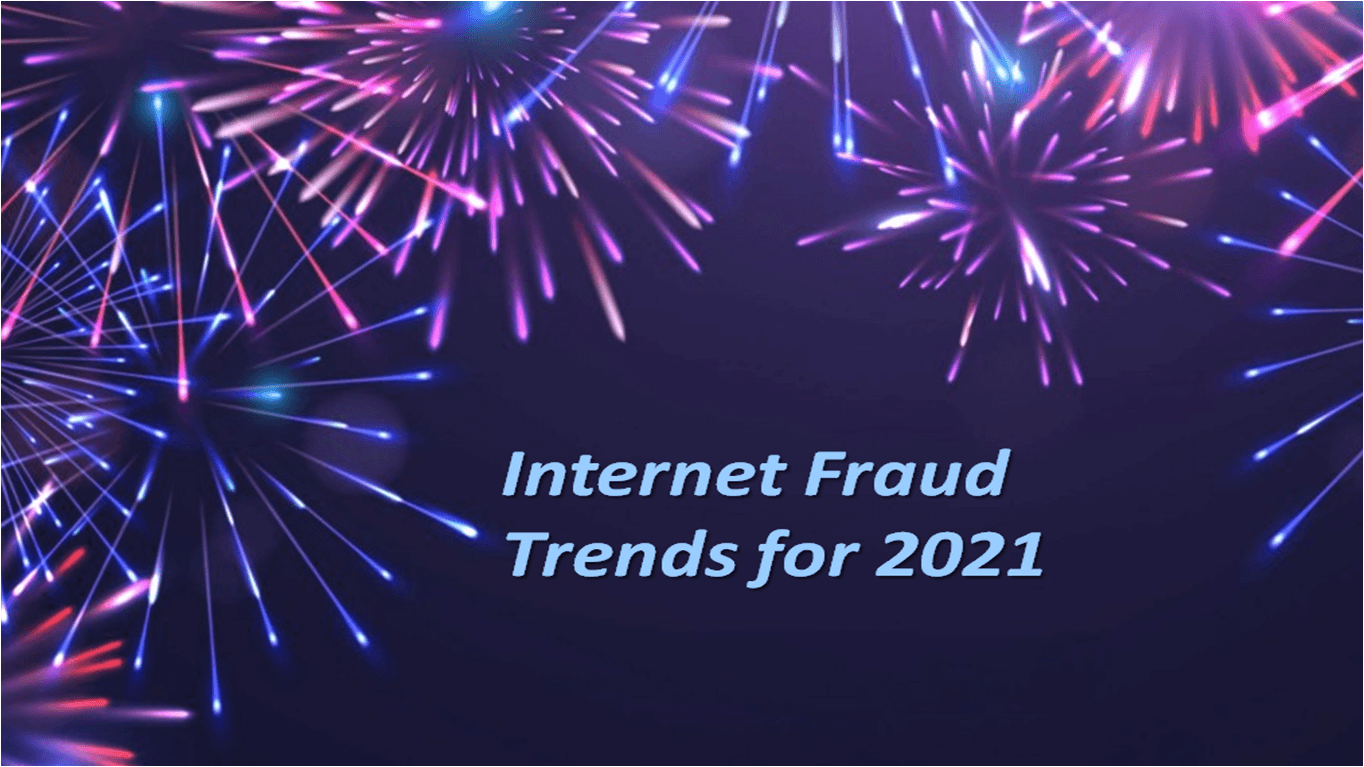 source: own elaboration
The breakthrough year 2020, which moved the business almost completely to the Internet, is behind us. In the US alone, eCommerce sales increased by 44.5% in the second quarter and another 37% in the third quarter of 2020. The situation related to the coronavirus meant that we all spent more time online - due to work, shopping and socializing. It was also an extremely important year for fraudsters operating on the Internet - suddenly their possibilities became virtually limitless. When it comes to this area, 2020 is just the beginning ... what frauds will be particularly dangerous in 2021?
#1 Frankenstein Identity
Experian Future of Fraud Forecasts includes the Frankenstein Identity scam, i.e. a synthetic identity fraud. It comes to this by combining real and false data to create a completely new, fictional identity. Such fraud may, for example, consist in using a real address stolen from an internet user and then adding an imaginary name to it. Thanks to this, the fraudster can set up a new bank account and apply for a loan or credit, which of course no one will ever pay back. Due to the increased activity in the network, we all leave even more of our data in it than before, and intercepting them by fraudsters becomes paradoxically easier. It is currently one of the most popular and fastest growing financial crimes, and it is difficult for companies to prevent it. The risk of using Frankenstein Identity can be minimized by using strong passwords and biometric data, but we must remember that this form of fraud is developing very dynamically.
# 2 Fraud over the spread of COVID-19 vaccines
The year 2021 brought the long-awaited COVID-19 vaccines, but their recently started distribution may become a breeding ground for fraudsters. Experts from Experian predict that fraudsters will try to tempt Internet users with promises of vaccines, free test kits, but also any other coronavirus-related therapies to carry out phishing attacks and enforcing data and consents to marketing contacts.
An example is provided by the Chartered Trading Standards Institute (CTSI), which uncovered a scam in which people receive a text message purportedly from the National Health Service saying "We have determined you qualify for the vaccine." The message contains a link to a fake website that looks like a legitimate platform. Of course, a lot of personal details are collected on the website, including name, address and banking details, allegedly for verification purposes.
# 3 Massive scale of automated attacks
During large-scale DDoS attacks and other frauds, Experian says, hackers will increasingly use automated methods, including scripting and increasingly advanced artificial intelligence. This will allow them to use the data stolen in one hack in the next. This will make cyber attacks and account takeovers easier and more scalable for fraudsters than ever before.
# 4 The greater importance of false reviews, opinions, and ratings
Although fraudulent reviews, opinions and ratings are nothing new, at a time when business has almost completely moved online, they have acquired a new meaning. E-stores offering the same products are struggling to survive, and consumers are becoming more cautious and do thorough research before making a purchase decision. So buying good reviews (or bad reviews that are meant to sabotage your competition) has become a big problem, especially for small, local businesses.
# 5 Fraud sellers
Popular shopping platforms also have to deal with completely new problems - new sellers are signing up at a shocking pace - Amazon alone acquired 1.2 million new sellers in 2020. Unfortunately, this is related to fraud - more and more consumers are deceived by dishonest sellers - both those sending counterfeit products and those not sending goods at all. Unfortunately, this trend will continue in 2021, so large purchasing platforms must invest in verifying their partners.
# 6 Omnichannel scams
Omnichannel combines store, internet and mobile experiences to create a unified consumer opinion in terms of marketing, shopping, customer service and the entire brand image. Companies committed to providing a good customer experience in all of these areas often overlook the security gaps by department. And this is what fraudsters are counting on, ready to seize any opportunity.
# 7 Greater risk of data leakage
Millions of companies around the world had to switch to remote work. This required them to act quickly in terms of configuring the appropriate tools. As a result, the risk of data leakage and fraudulent employee impersonation has increased significantly. For most companies, the priority was to provide employees with conditions to work from home, but they didn't focus on security. In 2021, this is to change - as the company's experts predict, they will put much more emphasis on the protection of their data and information about their customers and employees. They are likely to use artificial intelligence and profiling technologies to monitor remote workers, as well as implement new controls on systems and business email inboxes.
COVID-19 has forced companies to rapidly shift to online and digital technology. Some of them were better prepared for it, others worse. The network has shaken with a large number of new businesses, but it is the coming 12 months of 2021 that will verify who better meets the needs of consumers, and thus who will survive in the new market, and who will have to give way. Experian predicts that companies with weak fraud prevention tools and insufficient security technologies will suffer heavy financial losses in 2021 (and beyond).
What can entrepreneurs do to protect themselves and their consumers from Frauds?
If experts' forecasts prove true, we will face a year full of internet fraud, but that doesn't mean that companies are defenseless. Above all, they need to regularly audit all aspects of their internet activity. They should also invest in proven solutions, but also in innovative technologies to protect themselves against the risk of fraud, and at the same time benefit from the development and expansion that the Internet enables them.