Why don't most companies defend themselves against online fraud?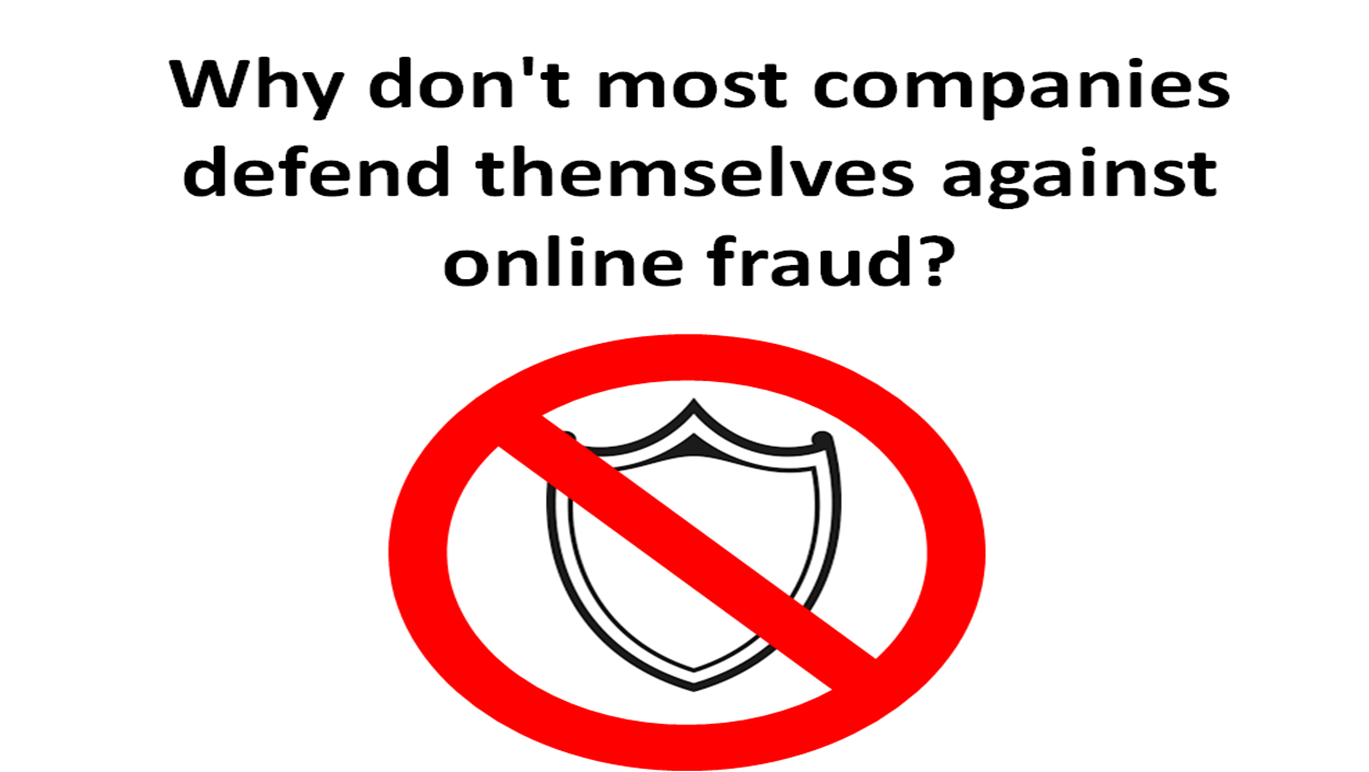 source: own elaboration
Internet scams are not myths or rumors but facts. Regardless of whether we mean frauds in the field of online marketing, stealing BOTs or DDoS attacks carried out on a large scale, we must face the truth and admit that online fraud has become a real threat to any company that uses the Internet. We don't have accurate statistics that would allow us to determine how many enterprises apply countermeasures against these phenomena, but they certainly belong to a minority. So why don't most companies defend themselves against online fraud?
"This problem doesn't concern us"
Small and medium-sized enterprises or stationary companies using the internet only to contact customers and marketing most often simply don't want to acknowledge that online frauds can also affect them. Most often they prefer not to know what threats they may come across - "this problem doesn't concern us" is their answer to everything that is associated with online fraud. Of course, this isn't true, because even if the company uses the network only to have contact with customers - it collects their data on its website or social media profiles. All information stored on work equipment connected to the internet or data collected on websites can be stolen or removed as a result of fraud, and denial makes them actually an even easier target. Even if the company has nothing worth carrying out an attack - the scammer doesn't have to be aware of that - and any such attempt can cause considerable losses. It's a bit like saying - I don't have anything valuable so I will leave the door wide open, and the thief will definitely pass by my house.
Fear of knowing the scale of the phenomenon
Even if the company is aware that the problem of online fraud concerns it like any other it doesn't necessarily mean that it is ready to face the reality. Many companies refuse to perform a free audit to check for fraudulent traffic or attacks. Why? Because they are afraid to get results. Even if a company suspects that it has fallen victim of fraud, it doesn't necessarily want to know that it is being systematically attacked or that it has been working with a dishonest partner for a long time. For many entrepreneurs, it is "more convenient" to be uninformed. Of course, only in theory, because in practice ignoring the problem of online fraud is extremely risky and can end tragically for such a reckless entrepreneur and his clients.
Costs
The most common concern among companies about implementing solutions to prevent online frauds is costs. Entrepreneurs think that these types of activities are very expenses and don't translate directly into increased sales. Certainly, some solutions providing protection against online fraud are expensive, but most companies don't need them - there are specialists such as TrafficWatchdog - offering this kind of services in subscriptions tailored to the needs of the enterprise. The protection against online fraud doesn't have to be expensive at all, and in addition it can be returned very quickly - after the first implementation of such a solution the company will find out in which areas it was wasting its financial resources - for example what forms of advertising were inefficient, not to mention how much it will save on attacks not carried out.
Employees afraid to raise the topic
Employees are often afraid to raise the topic of online fraud protection with their superiors because they will have to explain their concerns. It isn't easy to say that the work of a given department may not be as effective as it could be or that there is a risk that someone is cheating on us. In addition, it is difficult to present a request for funds for preventive measures as a profitable investment - calculating the potential rate of return will be very difficult if you don't have information about the scale of the phenomenon, and often it is required in such cases. However, it should be remembered that it is much easier to justify your fears to your supervisor than to explain your failure - and raising such an issue can protect not only the department, but also the entire company. Before having such a difficult conversation, you can also consult with experts who will certainly help you professionally present the topic of online fraud.
Lack of appropriate tools and technologies
Companies are often afraid that they don't have the technological facilities necessary to implement solutions that can protect them from online fraud. They don't want to introduce changes to the infrastructure, or don't have an employee who could deal with the implementation of such a service in the current system. In practice, these are groundless fears - specialists are able to carry out the entire process on their side and adapt it to how a given company works.
Lack of time
Enterprises often explain that they plan to implement similar solutions, but after some time, because they are currently absorbed by another, more important project. So at the moment they don't have the financial resources for similar activities, or the person who could deal with the topic. Postponing online fraud protection is not a good idea. The costs generated by the attack on the company will certainly be much higher than the expenses incurred for preventive measures, not to mention other very serious consequences. Protection should always be given priority, especially if customer data is at risk.
Fear of rumors and violation of the company's good name
We live in a time when every rumor can become news (or fake news), so many companies don't want to be associated with online fraud in any way, even when it comes to protecting against them. Of course, there is always a risk that someone will ask the question "why did the company suddenly start investing in similar solutions - was it the victim of an attack?" etc. Enterprises are afraid that their good name may suffer and the brand name may appear in an uncomfortable context. However, preventive measures are intended to protect the company from much worse danger. A company that wants to protect its customer's data against a potential threat is certainly a much better image than an enterprise that didn't care for such protection.
Above, we've presented the most common concerns of companies about implementing methods to protect them from online fraud. Regardless of what reasons a given company has, in order not to act in this area, it should preventively consider whether they are sufficient to expose business and customers to such a high risk.