Google Ads - what are they, how do they work, and how is it possible that for 20 years they have been one of the most commonly used forms of online marketing?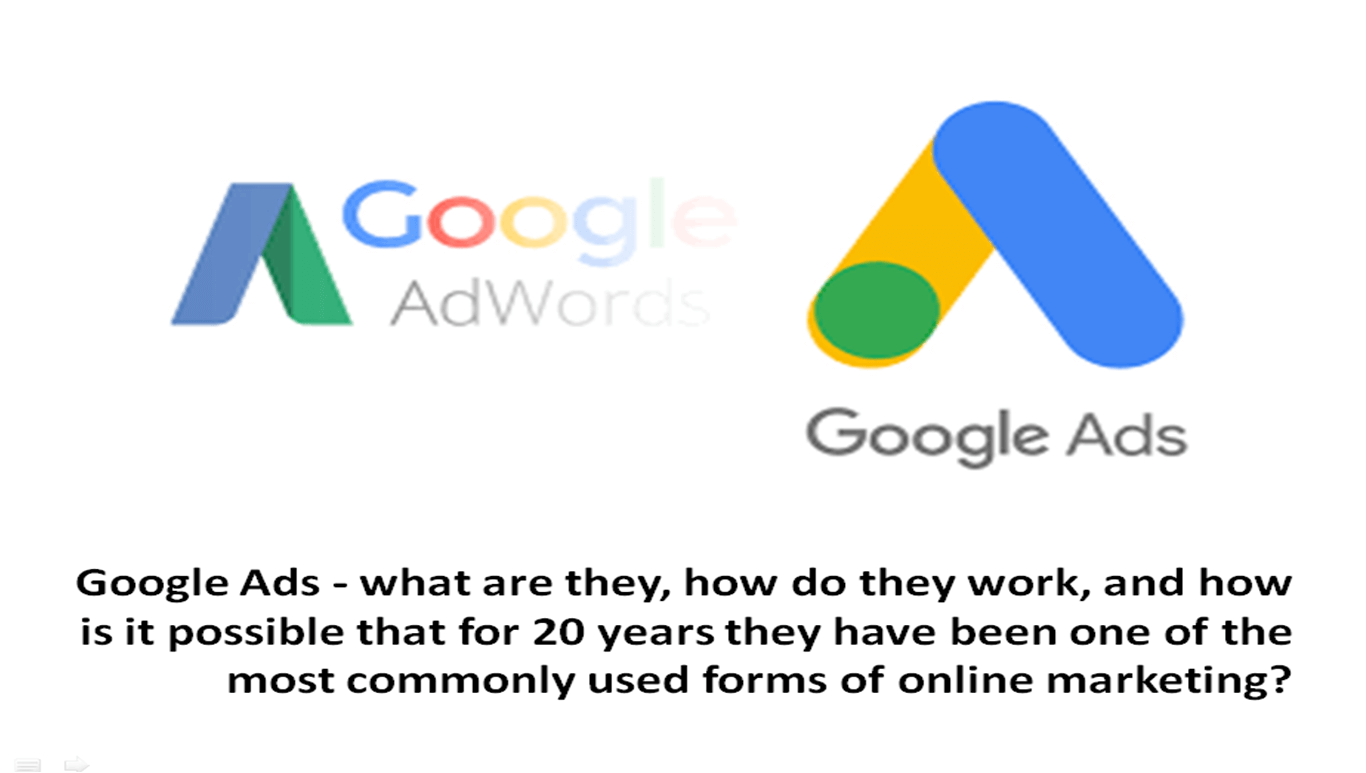 source: own elaboration
Google AdWords, now known as Google Ads, first appeared in October 2000. Advertisers could pay a monthly subscription for the service provided by Google employees who managed the campaign. It quickly turned out that this form of advertising would be a global hit - Google had to start working on the self-service portal almost immediately due to the fact that the company was unable to handle all entrepreneurs willing to use the service. Today, 20 years later, Google Ads is still one of the most popular forms of online advertising. What is the phenomenon of Google AdWords ads about?
How it's working?
Launched 20 years ago, on October 20, 2000, the Google advertising system enabled the display of sponsored links in Google search results, and as part of the Google AdSense program also on other websites. This form of advertising is based on cookies and keywords chosen by advertisers and works regardless of whether the entrepreneur operates locally or internationally. It also allows the ad to appear exactly when a potential customer is looking for a given product or service, which is very good for conversion statistics.
Google Ads sponsored links are created in two ways:
the first is based on the choice of keywords - so a specific "slogan" which when searched by an internet user will show him the advertisement,

the second, however, is the advertiser's indication of websites and the display of Google Ads on them.
What do Google sponsored links look like?
Sponsored links aren't supposed to look like standard ads, so they should look similar to natural Google search results. They consist of:
3 headers, none of which may be longer than 30 characters,

2 descriptions containing not more than 90 characters each, and

2 URLs, 15 characters each.
In 2016, Google also enabled advertisers to format ads into expanded text ads to make them look good on mobile devices.
Google image ads also need to meet certain image requirements - including, but not limited to, the standards set by the Interactive Advertising Bureau (IAB).
Why are cookies used?
Google Ads allow advertisers to pay for unique clicks and impressions, and it is thanks to cookies that Google knows that a given ad has already been displayed to this internet user. In addition, the information saved in cookies allows the introduction of many additional conditions to the campaign - including the use of remarketing, precise definition of the target group, etc.
How much it costs?
Although Google AdWords required a monthly fee initially, the business model quickly changed to CPC (Cost Per Click) and CPM (Cost Per Mile). The first of these assumes billing for every click generated, while the second assumes a fixed amount set for 1000 ad impressions. Interestingly, the cost of one click on Google is not fixed - it depends on offers submitted for the same keywords or websites by other advertisers, interest in a given slogan. So Google Ads operate based on the auction system - the one who gave the most wins. Therefore, the advertiser doesn't specify the exact price for the click, but the maximum rate that is ready to pay for it, and the Google Ads system compares it with those proposed by other advertisers interested in the same parameters.
Of course, it may happen that certain keywords will generate the launch of Google Ads from more than one advertiser - that's why the position of a sponsored link in Google search engine is so important. In addition to the maximum CPC bid, it also depends on the ad's quality score.
Ad Quality Score
Google Ads Quality Score is a factor that measures the quality of the ad and the relevance of the keywords and websites it has been assigned to. It is determined on the basis of the CTR clickthrough rate (to get it we divide the number of clicks on the ad by the number of all its impressions and multiply it by 100%), selected keywords and assessment whether other factors have been properly selected for them. We can distinguish several different levels at which Google Ads Quality Scores are determined, of which the most important are:
Quality Score at the site level,

Quality Score at the keyword level,

Quality Score at the level of advertising text,

The ad's landing page quality score.
Together, they all determine the final Ad Quality Score, and thus its position in search results.
Google Ads budget
One of the biggest benefits of Google Ads, and formerly AdWords, is that you can use them regardless of your marketing budget. From the beginning, the advertiser has the option of setting the maximum budget he wants to spend on campaigns, and can also plan spending on promotions over time - for example, by setting a daily budget. If the number of generated clicks is so high that the set limit runs out, the ad won't be displayed anymore, and it won't generate additional costs.
Benefits
Google Ads are suitable for virtually any online business - regardless of industry, location or size of the enterprise. With a good selection of keywords, your ads should only appear to people who are actually interested in the product or service, which can turn into more than satisfactory conversion rates and sales results. Google Ads allow for very accurate identification of the target group and planning of the campaign at a specific time and appropriate location. A big advantage of this form of promotion is also a fairly simple and at the same time very extensive administrator panel, which allows you to check statistics and make changes yourself. All this affects the fact that entrepreneurs are eager to use Google ads, and rather in the near future nothing will change in this area.
Threats
Although Google strives to provide users of its ads with the best protection possible by using various algorithms and firewalls, it still remains a channel exposed to online frauds, in particular to click spamming, and thus clicking on paid ads. Similar practices are most often used by dishonest competitors in order to expose their business rival to costs, as well as to finish off his Google Ads budget and prevent him from further promotion. Currently, a person wanting to click on someone else's ads doesn't have to do it personally - they can use the illegal services provided by click farms or program BOTs that will do it for him. To use Google Ads and not to worry about whether the recipients of the ads are potential customers, we recommend that you buy a parallel protective package offered by specialized companies, such as TrafficWatchdog.pl.