Who are fraudulent publishers and what kind of fraud are they committing in affiliate marketing?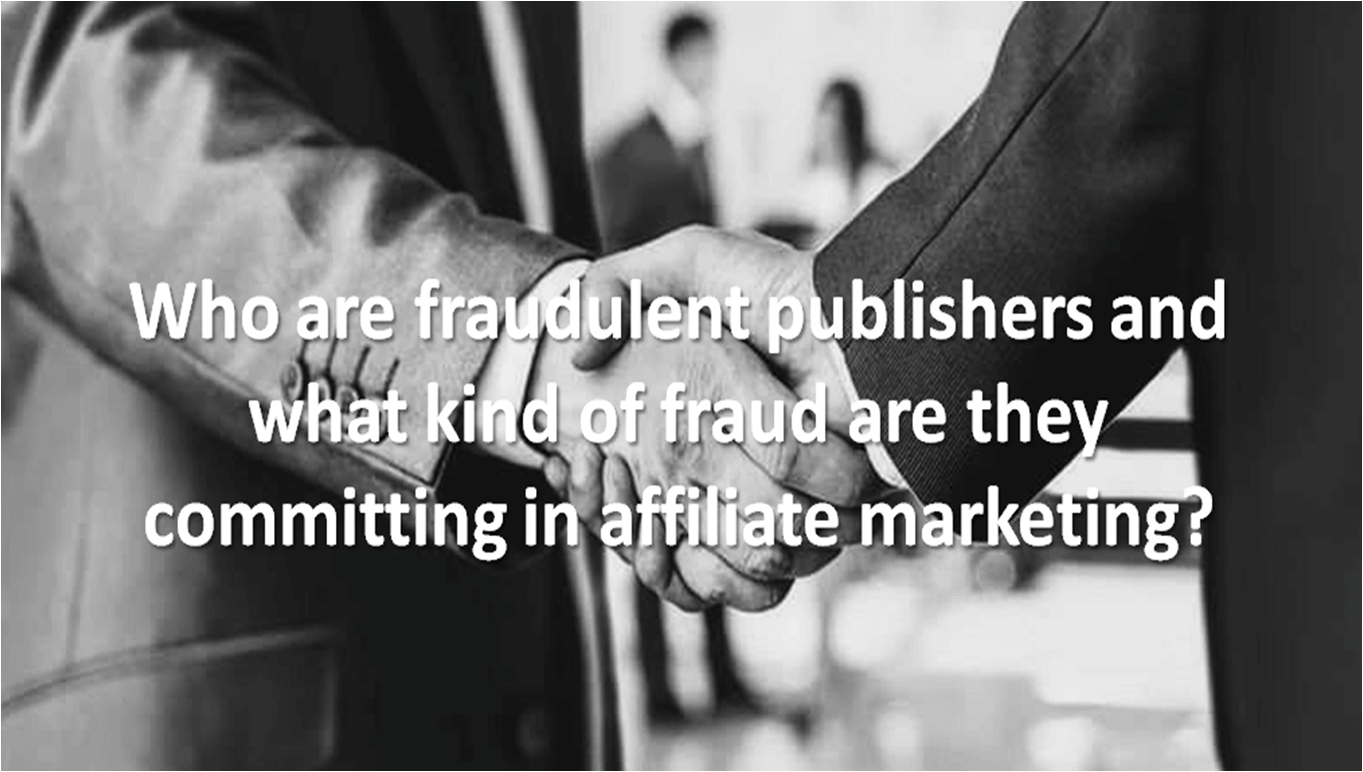 source: own elaboration
Affiliate marketing is used by most companies promoting themselves via the internet. It is used by businesses from almost all industries, both new brands and those with an established market position. It can be a great tool to attract customers, but you should be careful while using them. Fraud publishers are audacious and can fool the advertiser in many different ways.
How does affiliate marketing work?
Affiliate marketing is a type of performance marketing, i.e. marketing focused on achieving the desired results. Most often they are manifestations of recipient activity. Affiliate marketing is based on the operation of affiliate networks, also known as affiliate programs. These are institutions that associate advertisers, i.e. companies looking for new customers and publishers, i.e. owners of websites and databases, who can attract consumers for them through online marketing. Therefore, companies prepare marketing campaigns and then make them available to publishers via the affiliate network. Then publishers promote them on their websites or using contacts from their databases. But what if the publisher turns out to be a fraud?
What kind of fraud are publishers committing in affiliate marketing?
Affiliate marketing has many faces, which is evidenced by the multitude of available advertising models. Advertisers can choose for what type of user activity they want to pay for. This may be clicking on a link, displaying an ad, leaving contact details, registering, downloading an application, and even sell. However, regardless of which model they choose, they can fall victim of cheaters.
Click spamming is one of the oldest forms of fraud in online marketing and not only applicable for affiliate activities. Click spamming also applies to Google Ads campaigns. Although most of the algorithms used for counting clicks recognize duplicates, generating false clicks is not particularly difficult - the scammer can click the ads himself using, for example, program falsifying the IP address. Of course, there is also the outsourcing option - a dishonest publisher, or a person who wants to click spam on an advertiser's ads, may hire other people or use click farm (we wrote more about them in previous texts). Special programs are also used for automatic click spam on links.
Similar scams occur when inflating the number of ad impressions. The dishonest publisher can turn on the ad himself repeatedly using, for example, incognito mode, hire other people, rent a click farm specializing in displaying ads, or use BOT that will do it automatically. The scale of the phenomenon is enormous - as demonstrated by comScore between May 2012 and February 2013, as much as 54 percent of the thousands display campaigns analyzed for the purposes of research have never been shown to humans.
If the advertiser pays for acquiring the contact details of potential customers, so leads, he must also take into account fraud leads. Part of the data will be useless due to mistakes made by Internet users (typos in the email address, mistakes when providing the telephone number, etc.), but if the advertiser pays publishers for acquiring leads, they may also become a victim of their dishonest practices. The most common fraud in this area is the transmission of false data or the use of real information without the consent of the person concerned. Secound case is particularly dangerous - it is unlawful use of someone's personal data and can have serious consequences.
Some scammers add false leads to good leads packages. Because advertisers receive mostly good traffic, there is a good chance that nobody will notice the smuggled false leads. Such a publisher buys real contact details and adds untrue ones to them. Of course, at the same time he requires payment for all or most of them - and the higher the amount of traffic delivered by a given publisher, the higher the price he can negotiate.
If the partner is to acquire registered users for the advertiser, it may also commit fraud. Creating artificial accounts by hand is time consuming, but at the right price, it can be profitable. Not to mention using the right software. BOTs that collect information from contact forms or login pages and then use stolen data to set up false accounts on other websites are common. The most advanced even capture activation emails and automatically approve registrations.
With the spread of mobile applications, an affiliation has created a new advertising model that is a variation of CPA (Cost Per Action), i.e. the payment of commission for triggering a given user action. In this case, the action is to download or install the application. Of course, scammers quickly find a way to trick advertisers in this area as well. Specially prepared programs are hidden in other applications or websites and secretly saved on the device. Then, invisibly for the user, they download other applications on their equipment. They are immediately hidden, and after a while they are automatically removed, so that fraudsters are rarely detected and reported.
CPS, i.e. the model assuming awarding commission for the sales generated by the publisher, was considered the safest, because the advertiser had to pay only if he actually made the sale. Also here, however, were patents for fraud. Dishonest publishers capture the customer who wants to make a purchase on the company's website and mark the sale as generated by themselves. They can do this by adding certain data in Internet user's cookies, or thanks to specially written programs. As a result, the advertiser pays the fraudulent publisher for the sale he made without his participation.
Despite so many threats, affiliate marketing is a very effective promotion channel. However, when using it is good to be careful. If an advertiser gets only a little traffic through an affiliate, he can protect himself from fraud by constantly monitoring his publishers' activities. However, if significant financial resources are spent on affiliate marketing - it's best to invest in protection. Companies such as TrafficWatchdog offer comprehensive services in this area.