Why should the advertiser know where he is getting traffic from?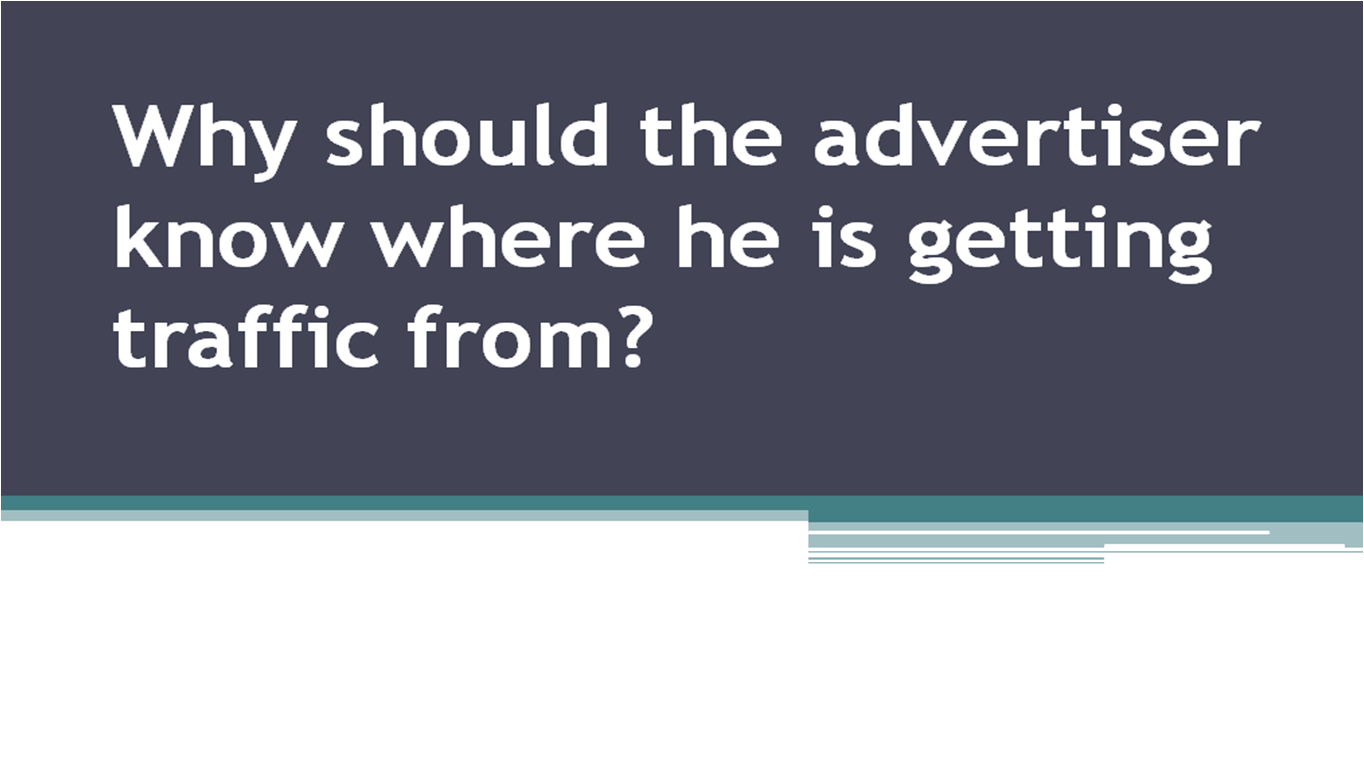 source: own elaboration
Every year, research shows that companies' spending on internet marketing is rising significantly. A large part of them are those passed on to affiliate partners who provide advertisers with huge amounts of leads, clicks, views and other forms of internet traffic on a daily basis. It is obvious that you should know who you work with, but in this case it is particularly important. Why?
Internet is currently the largest medium, and for entrepreneurs the most popular channel of communication with clients. It makes Internet an opportunity, but also a huge threat. Every online company is exposed to a number of dangers, and one of the most serious are online Frauds.
First of all, a dishonest partner can cheat not only the advertiser, but also internet users by unlawfully using their personal data. If this information goes to an enterprise that contacts the alleged potential customer, company may face serious allegations. The theft of someone's personal data is a crime in which the company has been unwittingly implicated. Testimony to the police and in the courts, money spent on legal consultations and other similar troubles are certainly not the best way to invest company's resources and time. Not to mention the fact that no brand wants to be associated with criminal activities.
Even if things do not go so far, users whose data has been unlawfully transferred to the advertiser have the right to request information on what basis a given company processes their personal data. And proving that the internet user has given the appropriate consent is the responsibility of the company that has made contact with him. So if a dishonest partner provided the advertiser with incorrectly obtained data, it may turn out that the cheated company will also suffer the consequences of fraud.
We must also remember about opinions and comments that users can express publicly about the company. There are forums, groups and blogs dedicated to the topic of "harassing" phone numbers. If the company number is indicated on them, the frequency of potential customers receiving calls may decrease significantly, not to mention that a good image of the company may be damaged.
Every advertiser wants to be perceived by partners as monitors all indicators and aware of the current results of cooperation. Otherwise, he will not be taken seriously by the persons and companies with whom he works. If it turns out that the advertiser has been paying for false traffic for a long time, there is a possibility that in the future other partners will also behave dishonestly towards him because they thought that he could be easily deceived. Some of the fraudulent publishers that have been caught are trying to re-establish cooperation with companies that they have previously been able to pull, using a new website, name or acting as part of another affiliate network.
Of course, there is also the most obvious reason, and also the most serious for many entrepreneurs - significant material losses. The funds spent on online marketing often make up the majority of the entire marketing budget. By working with cheaters, the company is wasting money that it could invest in a much better, more efficient way. The more it is necessary to monitor the results of conducted campaigns and control not only conversion rates, but also the correctness of the traffic provided by various sources.
Even if the company realizes that it has been deceived, it can be very difficult to prove it and charge an impostor. Most often, companies that have fallen victim to this type of dishonest practices block the source to prevent similar events in the future, but rarely recover lost funds.
The arguments given above are just a few reasons why advertisers should control who they work with. Certainly, most companies may also face additional unpleasant consequences in the case of fraud. We believe, however, that the threats we mention, such as: protecting Internet users' data, risks related to legal consequences and loss of good consumer opinion, disrespectful attitude of partners and significant material losses should be enough to motivate the advertiser to take preventive actions. One of the best anti-fraud solutions is to work with a company that monitors the quality of delivered traffic, such as Traffic Watchdog.