Why should advertisers include Ad Fraud protection in their marketing budgets?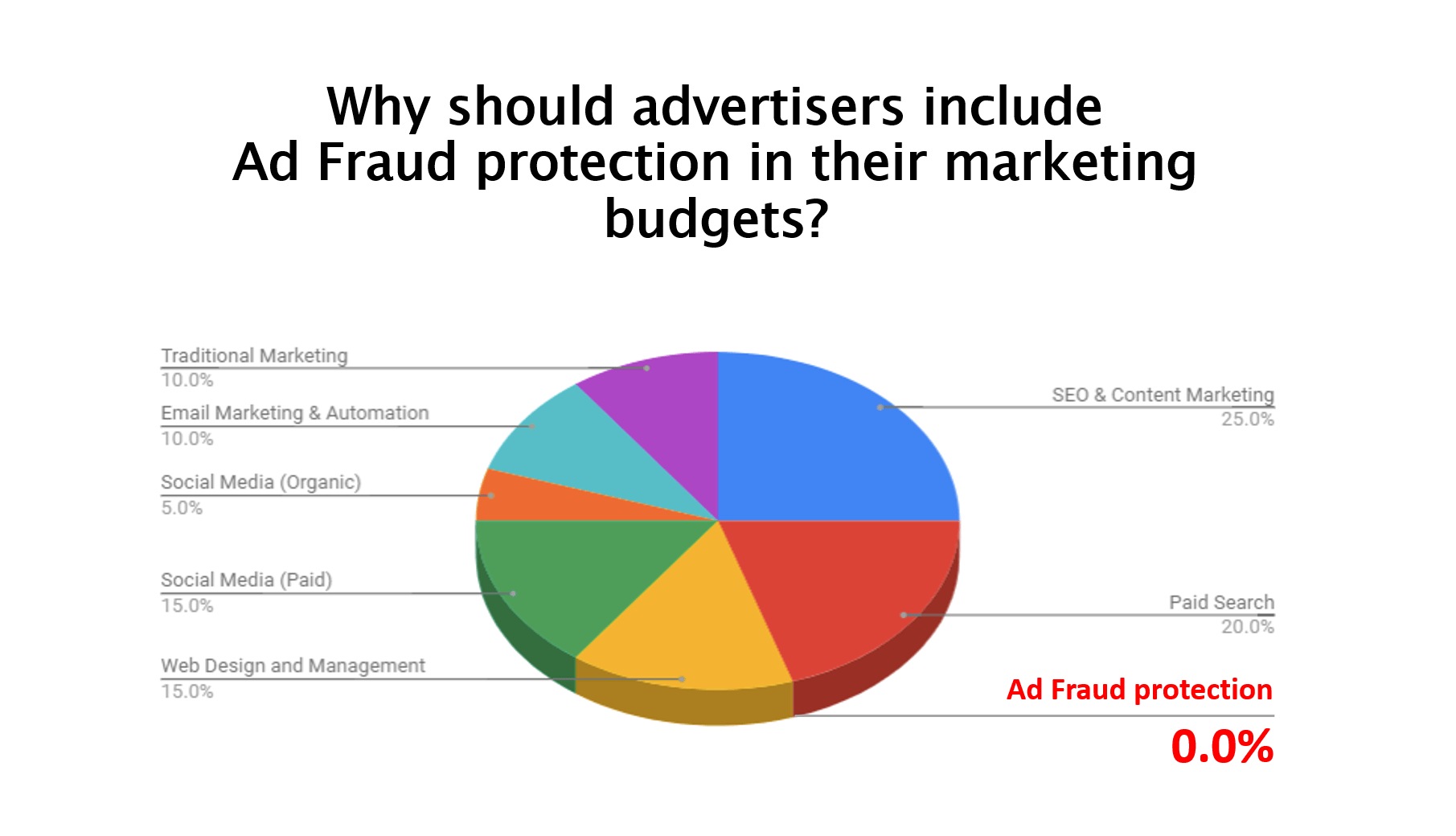 source: own elaboration
The end of 2023 is approaching fast. For most companies operating on the Internet, this means not only summarizing this year, but also creating marketing budgets for the coming year 2024. And we are talking about huge funds here - according to the Dentsu Global Ad Spend Forecasts report from May 2023, advertising expenditure around the world will amount up to even USD 727.9 billion by the end of 2023. But it's not just advertising budgets that are shocking with gigantic amounts - Juniper Research predicts that financial losses incurred as a result of advertising fraud may amount to as much as $100 billion worldwide this year. This means that almost 14% (13.7%) of marketing spend is wasted due to ad fraud. Interestingly, despite these statistics, most companies still ignore the problem and don't defend themselves against it in any way. Why should you include fraud protection in your marketing budget? We will try to explain in the text below.
Ignoring the problem…
Opticks, a company providing software to combat advertising fraud, prepares a publication devoted to Ad Fraud every year. While creating the latest report - 2023 Opticks Ad Fraud Report, specialists employed by this company checked over 4.7 billion clicks obtained in 2022. Additionally, from June 1 to July 30, 2022, a survey was conducted with 39 people working in the advertising industry (of which 26 respondents worked in Europe, and the remaining one third in North America, South America, Africa, the Asia-Pacific region and the Middle East). In the survey, almost 70% of respondents said that they hadn't encountered advertising fraud - but at the same time, most of them admitted that they hadn't implemented any solutions to detect and measure it. Such results prove that the problem of Ad Fraud is completely ignored (or even denied!) by the majority of specialists surveyed for the purpose of preparing the report.
The most important advertising effectiveness indicators are significantly distorted by Ad Fraudy!
In the same study, 80% of respondents stated that improving the ROAS (Return on Ad Spend) is one of the most important goals they set for themselves and that indicators such as ROAS and CAC (Customer Acquisition Cost) are the most important when measuring campaign effectiveness. As experts from Opticks prove, advertising fraud has a very significant impact on these indicators - reducing the return on investment in advertising by 11% on average, while increasing the cost of customer acquisition by as much as 9%. Therefore, in order to have the highest possible ROAS and the lowest CAC, companies operating on the Internet should also take into account activities to prevent Ad Fraud when creating their marketing budgets (monitoring campaigns, detecting false signs of activity, excluding artificial traffic, eliminating dishonest partners etc.) - and yet still very few of them actually do it.
The more popular the marketing channel, the greater the risk of ad fraud!
Another area that was included in the report is various marketing channels. Experts employed by Opticks used a complex model based on statistics, algorithms and machine learning and evaluated over 4.7 billion clicks in real time, and then checked the statistics for various advertising channels. According to the report's authors, in 2023 the most popular marketing channels are supposed to be affiliate programs, programmatic advertising and native advertising. The rate of fraudulent clicks for them was respectively 14.3%, 12.2% and 2.6%.
Affiliate marketing is definitely the channel most affected by the problem of ad fraud (14.3%), as is programmatic advertising (12.2%). A lower rate of advertising fraud was diagnosed in SEM and Social Media channels - 4.4% and 2%, respectively - but these aren't small numbers, especially if we take into account the fact that most of the marketing budgets are often spent on advertising in search results and social media.
Although TikTok is an attractive source of traffic for advertisers (it is estimated that as much as 3% of global marketing expenditure will be invested in advertising on this SM channel), artificial views and clicks, often involving smartphone emulators, are a serious problem on this platform. When it comes to marketing and advertising in social media, in the report to which we refer in this text, the rate of fraudulent clicks was as follows: TikTok - 21.1%, LinkedIn - 16.2%, YouTube - 7.2%, Instagram - 6.9%, Twitter (currently X) – 3.3% and Facebook – 1.7%.
However, the authors of the report emphasize that all marketing channels, social media and all industries operating on the Internet, in virtually all regions of the world, are exposed to advertising fraud.
Scammers know the trends!
Advertisers often don't realize that the fraudsters behind Ad Frauds are often very good marketing specialists, well-versed in market trends and familiar with technological innovations. Therefore, when a channel becomes popular, it quickly becomes the main area of interest for fraudsters. A great example here are viewbots (malicious programs designed to watch videos and live broadcasts) - commonly used by fraudsters to inflate the prices of views, the number of live views and other statistics.
The increase in the number of artificial intelligence based chatbots - such as ChatGPT, including those created with criminal activities in mind - is also great for the development of advertising fraud. We wrote more about it in the article - Use of Artificial intelligence (AI) in online frauds and cybercrime - TrafficWatchdog.
Online frauds often cause huge image losses!
Although it wasn't included in the Opticks report, advertisers are exposed not only to false clicks and other false manifestations of user activity. False comments and opinions, impersonating well-known (but increasingly local) brands and domains, taking over company accounts in SM and creating their copies, data theft or fake news - these are just some of the threats that every company which is visible in the internet may encounter. All this generates not only huge financial losses, but also image losses, which are often much more difficult to make up for.
If the advertiser won't defend himself, no one will do it for him!
Every advertiser should be aware that protecting their campaigns against advertising fraud is their business and no one else will deal with this problem for them. The owners of advertising platforms and SM portals, of course, try to detect fake traffic and accounts, but they do it using general tools and algorithms, and not by carefully monitoring individual campaigns. Additionally, the effectiveness of their activities cannot be determined without data analysis on the advertiser's side. Similarly, when it comes to Affiliations - affiliate networks sometimes eliminate dishonest partners, but most often only after they are reported by Advertisers or other institutions. It should be remembered that too accurate detection of advertising fraud may not be of benefit to such entities - it reduces the statistics of generated traffic, and therefore has a negative impact on their revenues. Additionally, any mention of Ad Fraud may cause them serious image damage. Often, a more convenient option for them is to turn their heads or deal with the matter "quietly". There is also no support from state authorities - there is often no public organization that deals with the topic of advertising fraud, and the legislation itself is still very undeveloped in this area.
The problem affects everyone!
The fight against Ad Fraud should be a joint effort of advertisers, entities operating in the marketing industry and organizations dealing with cybersecurity. Fraudsters are constantly developing not only their methods of operation and the technology they use, but they are also increasingly acting together, forming much larger criminal groups, which allows them to carry out frauds on a massive scale. If we won't create a united front in the fight against them and won't try to counteract their efforts, Ad Frauds on the Internet will increase even fast, and the statistics in this area are already very alarming. Advertisers must therefore stop ignoring the problem (which affects virtually every company operating online) and plan their marketing budgets more consciously.
Advertisers don't know what they can do to fight Ad Frauds?
Perhaps part of the problem of Ad Fraud protection not being included in marketing budgets by Advertisers is the sense of helplessness and lack of information about what they can do to counteract them. Of course, there are many options. Large companies can afford to employ cybersecurity specialists, but smaller ones usually rely on external companies. Although there are not many specialists in the fight against Ad Fraud field, especially on the Polish market, this doesn't mean that the cost of cooperation with them has to be high. On the contrary, these costs are often much lower than expected. Most of such companies also offer a free test so that the advertiser can see for himself that the funds invested in protection against advertising fraud return to the budget very quickly and with a considerable interest! At TrafficWatchdog, we deal with Ad Fraud protection - if you are interested in our offer, please contact us!