Are SalesBots equipped with artificial intelligence the future of e-commerce?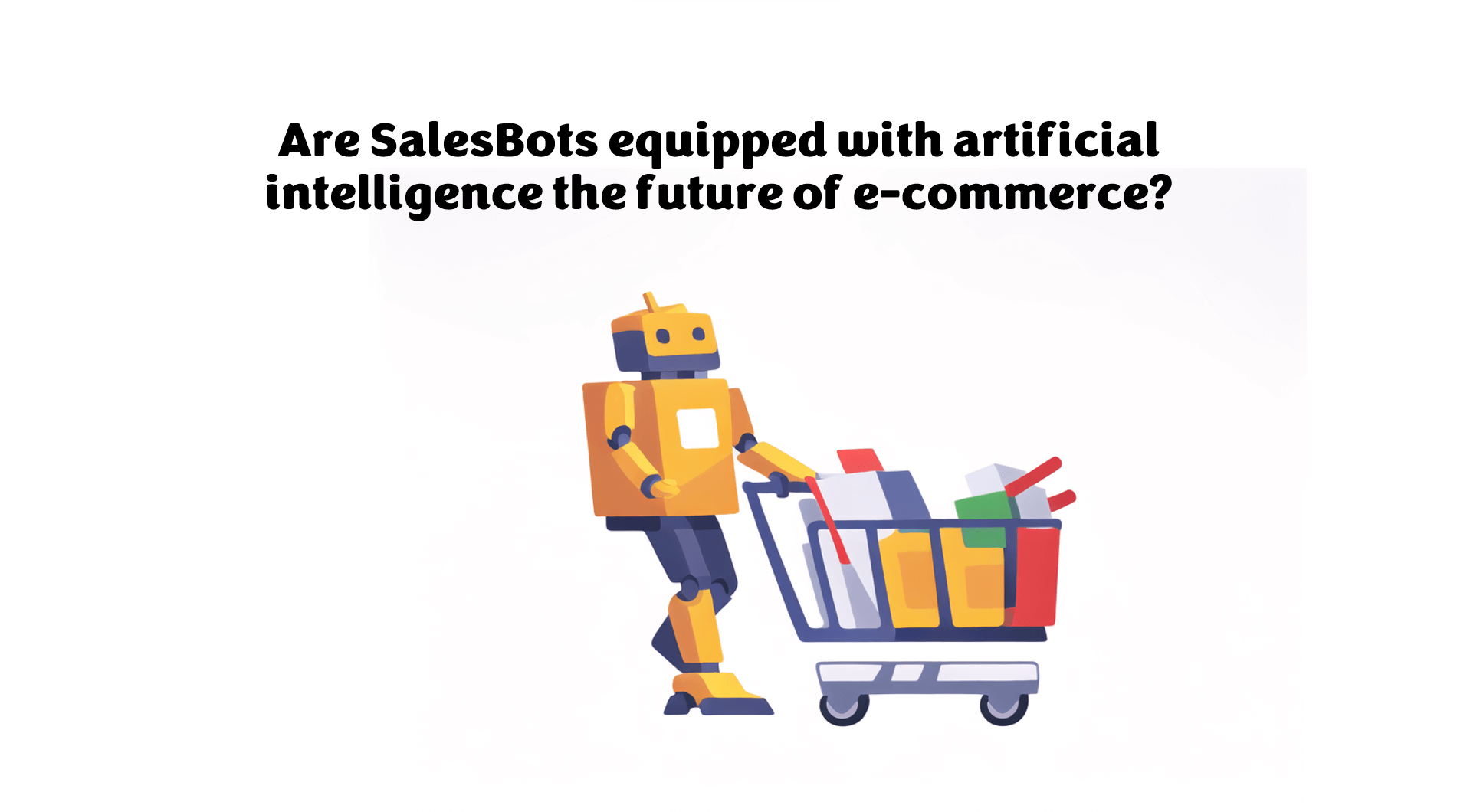 source: own elaboration
Imagine that you enter online store website and from the start you are greeted by a SalesBot equipped with AI (artificial intelligence) solutions. It is your private salesperson who will help you choose a product that meets your needs as well as answer any questions, and you can be sure that it won't make a mistake or forget anything. What's even more important, you don't have to follow him around the store or wait patiently for him to finish serving someone else! This is the future of online shopping, and it is increasingly becoming the present.
Research shows that there are three main factors that determine whether we buy something in stationary stores, even though we can often buy it cheaper online: time (because we need something right away), professional service and the opportunity to see, touch or try on the purchased product. First of these points is, for obvious reasons, the most difficult to overcome for e-commerce, but we are increasingly encountering very short delivery times (next day, same day, etc.). The third one becomes less important with the free returns option; also, good product photos and descriptions are very useful. However, when it comes to an expert, SalesBots may be more then helpful especially if they also have artificial intelligence solutions. They can help you choose a product, answer questions about it, and even guide you through the installation process or the first launch of the device. All this while eliminating human error and emotions that accompany each of us in our daily work.
Why were SalesBots created?
The main reason for the creation of SalesBots was the desire to save abandoned shopping carts, thus solving a problem that over time has become an everyday reality in the e-commerce industry.
According to Statista research, the percentage of created shopping carts that didn't result in a sale globally in the first quarter of 2023 ranged from 62 to 93% depending on device and industry, with the lowest rates of abandoned carts across all sectors recorded on desktop and the highest on mobile phones. This means that 6 to 9 out of 10 people don't make a purchase even though they were interested in it. Why is this happening? There are many reasons like price, delivery options, cost and deadlines, available payment options, etc. Knowing why customers interested in a given product or service don't make a purchase is crucial to sell more. And it can be provided by an intelligent SalesBot. It is enough that before the customer leaves the website, a window will be displayed asking him why is he leaving and didn't complete the purchase. Of course, not every Internet user will want to respond, so it is worth encouraging them with something - for example, a promise of a discount or a freebie. SalesBot can then collect data and assign it to a given product, as well as its category or variant. The information collected this way is a study of customer needs and competition at the same time and may prove invaluable for gaining a business advantage.
What is SalesBot?
SalesBot is most often a type of ChatBot used to contact potential customers of a given website. Their purpose is usually to lead to sales or increase the value of the order, but also to perform customer service functions. The chat window may open when entering a given website, adding a product to the cart, abandoning the shopping cart, when leaving the website or any other scenario specified by the creator of the SalesBot. Most often, these types of solutions use scripts and/or algorithms to conduct conversations, answer customer inquiries, provide product information, and even grant discounts, give freebies, etc. However, SalesBots equipped with AI solutions are increasingly common.
How can SalesBot use AI?
SalesBots can be equipped with machine learning algorithms and natural language processing (NLP). They then become AI Bots because they use artificial intelligence. In this case, their functionality is expanded to include self-learning and data collection and analysis. How it's working? An intelligent Chatbot recognizes words, phrases and sentence structures entered by the interlocutor, based on its software or understanding of the language, then searches its database and formulates the best possible answer. Modern Bots not only use a specific pattern, but also create their own, unique messages, which they improve by analyzing the reactions of their interlocutors. Such SalesBots can adapt the language, style and nature of statements to a specific person or situation, as well as draw conclusions based on the effectiveness of reactions. They also require less precise messages from the interlocutor than traditional Chatbots.
What are the benefits for e-commerce businesses from using intelligent SalesBots?
Of course, primarily financial, because their main function is to generate as much sales as possible. But SalesBot also saves time and money. The use of such a solution allows you to reduce staff costs, because it can serve thousands of customers simultaneously, operating 24 hours a day, 7 days a week. It also generates potential customers and improves the process of introducing new ones.
A properly created SalesBot can be integrated with various platforms, including WhatsApp, Instagram, Facebook and website chat. It is also an invaluable source of information - it collects, store and analyzes data about a potential customer (their budget, preferences, etc.) and his or her concerns and reservations. Thanks to this, it provides statistics needed to optimize sales strategies.
SalesBot equipped with artificial intelligence is also a great assistant that provides your visitors with personalized interactions, thus significantly improving the quality of customer service. It can speak different languages and adjust its style of speech so that each interlocutor is properly served. Thanks to this, it increases customer engagement and improves the company's image because it can quickly respond to each inquiry while maintaining high quality of service.
Another big advantage is the elimination of human errors. SalesBot doesn't have bad days, has no private preferences, doesn't get sick or tired even after many hours of work. Thanks to this, every customer will be served similarly, regardless of who they are and how much purchase they plan to make. Additionally, a well-designed intelligent SalesBot will improve itself without requiring large investments on the part of its creator.
What are the benefits for Internet users from the use of modern SalesBots by e-businesses?
First of all, SalesBots are an extremely convenient solution for Internet users because they provide immediate answers to their queries. So, they don't have to wait for office hours to get the information they need.
Of course, the benefits for Internet users depend on a programming solution which given company introduced to its SalesBot. For example, when it comes to people speaking a different language, such a solution may work better than a traditional employee, but only if the multilingual option has been added to its functions.
Customers' shopping experiences themselves may also be better because an intelligent SalesBot will provide them with personalized service. You can also often see such a Chatbot granting a discount or other form of promotion, because its main task is usually to convince an undecided customer to make a purchase.
If SalesBot also has other functionalities, it may allow the Internet user to select appropriate accessories for the purchased product, monitor the order, make a return, and even provide technical support to some extent.
SalesBots can be a brilliant tool for improving customer service, increasing sales and generating customer engagement. However, you need to remember that they need to be properly programmed to get the most out of their capabilities. The process itself may be difficult, especially for smaller businesses - so it is worth trying ready-made solutions prepared by specialists. If you are interested, please contact us, we will be happy to create a SalesBot tailored to your needs!