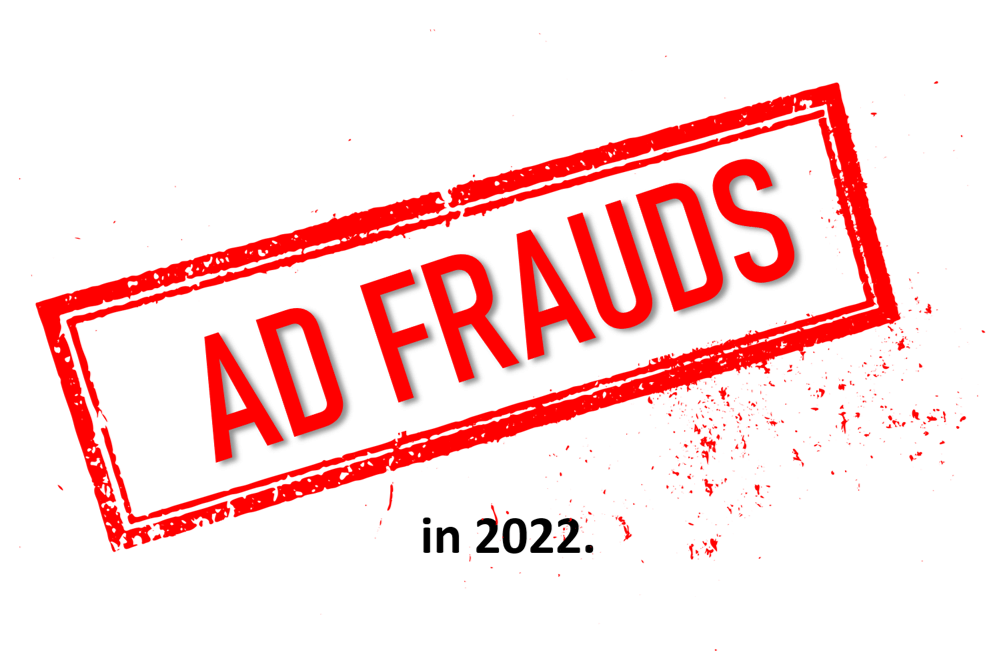 source: own elaboration
Year 2022 strengthened even further the position of online advertising in marketing budgets. We don't have exact data yet, but we can say with certainty that spending on it was higher than in 2021, and this one was already a record. According to data from Statista, companies spent a total of USD 144.8 billion on search advertising in 2021, and if the forecasts are to be believed in 2022 it will be over USD 163 billion. Spending on mobile advertising will also be higher this year - Statista predicts that it will exceed USD 240 billion. No wonder, the latest data from Google says that almost half (about 47%) of all purchases are made online. Such statistics should satisfy Internet marketing specialists, but we must remember that there is also the other side of the coin...
Juniper Research says that the financial losses incurred as a result of ad fraud may amount to up to $ 68 billion worldwide this year, and it is estimated that in 2023 they will cost the industry up to $ 100 billion a year. Indicators provided by Forbes prove that as much as 43% of traffic related to online campaigns is invalid (IVT) and non-human (NHT), and research conducted by the University of Baltimore that 14% of all clicks on PPC ads (both social and in search results) are invalid clicks.
What does Invalid Traffic mean?
In its report published in November, Pixalate, a platform for analyzing fraud protection, privacy and compliance for Connected TV (CTV) and mobile advertising, uses the Media Rating Council (MRC) definition:
"'Invalid Traffic' is defined generally as traffic that does not meet certain ad serving quality or completeness criteria, or otherwise does not represent legitimate ad traffic that should be included in measurement counts. Among the reasons why ad traffic may be deemed invalid is it is a result of non-human traffic (spiders, bots, etc.), or activity designed to produce fraudulent traffic."
So, what is Ad Fraud?
If such Invalid Traffic is the result of a deliberate action, we are dealing with advertising fraud (called Ad Fraud). Ad Fraud is therefore any tactic used by cybercriminals to steal funds from legitimate advertisers or advertising spaces, or to achieve other non-compliant goals (for example acting to the detriment of well-known brands). Most often, the result of such actions is not displaying digital ads to the target audience, and among the methods used by fraudsters, the most popular are malicious BOTs, i.e., special programs that generate false traffic or intercept and count as their own real traffic generated by other publishers. The most well-known types of Ad Fraud include:
Ad injection
App spoofing - impersonating applications also known as app misrepresentation or app laundering,
Ad stacking – overlapping ads,
Auto Impressions, i.e., displaying ads in the background by malware,
BOTs/non-human traffic – any fraud consisting in displaying ads to fake users, for example BOTs pretending to be people,
Domain spoofing, i.e., impersonating well-known websites,
Geo masking and other location-related fraud,
Pixel stuffing,
Recycled leads,
Incentivized traffic,
Click, download or installation farms,
Image embedding,
Device spoofing,
Click flooding otherwise known as click spamming,
Cookie spamming, and
Install hijacking, also known as Click Injection.
The number of mobile advertising scams is constantly growing, and social media activity is the most profitable for fraudsters
According to Statista, in 2021 mobile advertising spending in the world reached a record value of USD 288 billion, which is an increase of 26.6% compared to the previous year, and in 2024 it is expected to reach up to USD 413 billion per year. No wonder that this is an industry particularly vulnerable to fraud. The same source reports that the fraud rate related to the installation of mobile applications around the world was 7% for iOS and as much as 12% for Android last year, which means that 7 out of 100 applications in the Apple environment and as much as 12 out of 100 for applications created for Android devices are related to some kind of advertising fraud.
According to the Invalid Traffic Benchmarks Report for the 2nd quarter of this year, which was published in November by the aforementioned Pixalate platform, the fraud rate related to displaying ads in mobile applications was on average 28% (including an average of 32% in the Apple environment and 26% in the Google environment). As for CTV advertising – an average of 19%, which is an increase of 5% compared to the results of the 2nd quarter of the previous year (when it amounted to 14%). The Pixalate study provides a comprehensive overview of the global state of ad fraud in April, May and June 2022 across the two largest CTV (Roku, Amazon Fire TV) and key mobile app download platforms (Apple, Google App Store).
In October of this year, Pixalate also discovered and publicized a series of mobile ad scams using a technique called App Spoofing. The list of 20 mobile apps from Apple and Google stores that have been most affected by this scam includes whowho, Window Photo Editor and Bass Equalizer for Android apps, and Wordscapes, Jigsaw Puzzles for Adults and Killer Sudoku for iOS apps, and this kind of scam could cost advertisers as much as $38 million in 2022 alone.
Interestingly, the most profitable for fraudsters are unfair practices related to advertising in social media. If you believe the data collected by the FTC (Federation Trade Commission), fraudsters in 2021 earned the most by operating in this channel. This is confirmed by the fact that more than one in four people who reported losing money as a result of fraud last year testified that it started through advertising, post or social media message. As a result of such fraudulent activities, Facebook removed 1.7 billion fake accounts in Q4 2021 alone. We are very curious about the data that the social media giant will present for 2022.